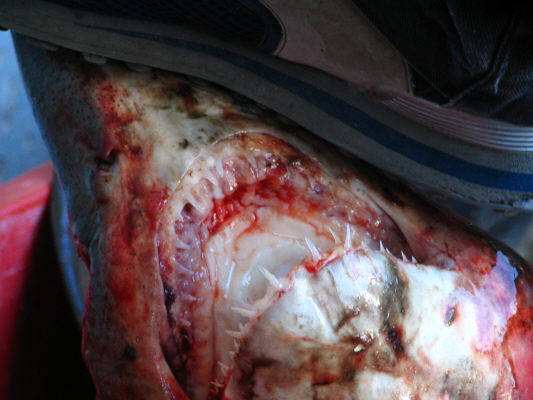 Beware these teeth. The movie "Jaws" is called here "Les Dents de la Mer" -- the Teeth of the Sea, whence my title for this morning. This shark is dead, but not harmless. Just a touch of these dentures will cut you quick. Our expert guide this morning also notes that the shark does not use mouthwash every day -- infections from the catch must be carefully avoided.

I should add before I close, that this week is among our most active with regard to visits. Today we stay at home in Les Sables and will gather again this afternoon to see the salt marshes that for centuries made commercial fishing possible. Stay tuned for that.

Later this week, we head off for the nearby Loire Valley. I hope to have pages from this afternoon up before we leave. When we leave for the Loire we may be offline for a couple of days. Not to worry. I'll give you a report by this weekend.