West Virginia University in Vendée, France
Reports to the jury...
July 1, 1999
Our class today began with a review of our visit to the Loire Valley. We then began the final stages of our program with the oral reports on the inidividual cultural projects our WVU-Vendéens have been preparing over the last couple of weeks.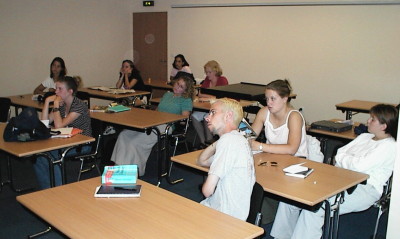 Freddy Perkins, who works as a florist in Morgantown, decided to see how his trade is plied on this side of the Atlantic. A part of his research involved an interview with Daniel, a florist who works at Oasis, here in Les Sables. Licensed florists here are trained in either public or private schools and are usually certified after two to four years of training. Freddy found that salaries here are comparable to those back home, as are the prices of flowers -- a slight edge given to France, where florists are a little better paid and where flowers are a bit less expensive. Most flowers sold in the States come from either California or from South America, but here the blossoms come from nearby Nantes and Angers in the Loire Valley. The busiest work day for an American florist is Valentine's day. In France, however, it is Mother's Day that takes the bouquet. Freddy deserves a flower in his cap for the interesting information he has "gathered."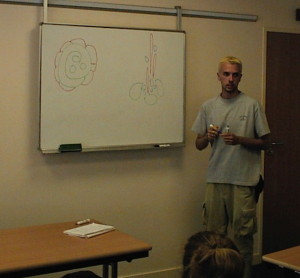 Kathleen Schattenberg has chosen to explore the life of another flowery figure in French and English history, Aliénor d'Aquitaine. Aliénor's life and accomplishments have come up often in previous parts of these reports, and Kathleen provides us with a vivid portrait of other elements of this great woman's life. Her preparaton included a review of a recent biography of Aliénor by celebrated French scholar Régine Pernoud as well as a visit to Aliénor's birth place in nearby Nieul-sur-l'Autize. Her interview there gave her insights into the contemporary importance of Aliénor's life. Among other things, Kathleen reviewed the artistic influence of Aliénor's court as well as the destinies of the two daughters she gave King Louis VII of France and the eight children she had during her turbulent marriage with Henri II de Plantagenêt, Count of Anjou, Duke of Normandy as well as King of England.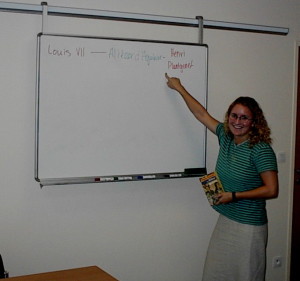 Jennifer Jeffries decided to investigate the of the life of a waiter in a French café. She did an interview with Johan, who works at Le Café de la Plage on the remblai here in Les Sables. She learns that competition is ferocious in the café business and that the tourist season that is now upon us can mean life or death for the owner of one of these businesses. Johan espcially enjoys the English tourists who come here from just up the Atlantic since they seem sometimes to confuse the values of francs and pounds, thinking things here are very inexpensive. Jennifer also tells us that there are very strict laws in France governing the food and beverage business and that cafés must follow them carefully to maintain their licenses. Here's to you and to Johan, Jennifer!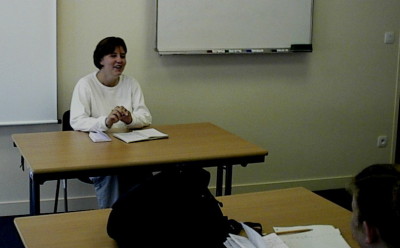 Carolyn Graeber's project focuses on the study of music in France. She reports that public schools only provide about one hour of training in music per week, and that these classes focus primarily on the appreciation and history of music. French schools generally do not have bands or glee clubs (nor football teams!). Lovers of music generally begin their serious training with private lessons, before applying to the different academies where they can work in classes and orchestras. These academies range in scale from small private schools all the way up the the prestigious École Nationale de Musique, a branch of the Ministry of Culture that runs two national conservatories. In France all public education is paid for by the state or the community, but it is rather difficult to be accepted in these demanding schools. Les Sables runs a municipal music school, which itself has a considerable waiting list. Fortunately for us, Carolyn has to get back to the States before she can see her name move up in the roster.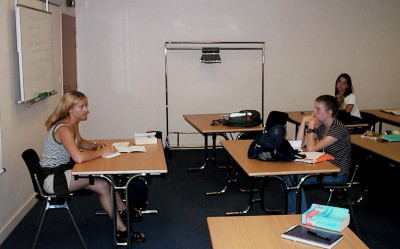 Tomorrow we will hear from several others of our individual projects, so be sure to... Stay tuned to WVU-V!
Go on to July 2, 1999
Return to the 1999 Calendar
Comments to mlasting@wvu.edu