West Virginia University in Vendée, France
Readin', 'Ritin', and Rythmetic...
July 2, 1999
You'll understand my spelling of the third term a little later, but first I couldn't resist sharing a little back stage WVU-Vendée with you. A lot goes on behind the scenes to make all this possible -- including a fair bit of old-fashioned mathematics. Below is a photo from just after 11 pm last night. V. Lastinger is hard at work on the books and receipts for the last week's adventures in Vendée Land.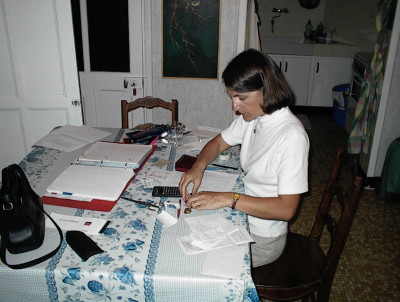 Our class this morning began the second round of our oral presentations. Here, Brad Gunnell reports on elementary education in France, which begins at the age of 2 years with "l'école maternelle" (or "maternal school" like the one our four-year-old Lucie is attending). Elementary school starts at the age of six, and Brad's investigation led him into a school here in Les Sables where he observed classes and interviewed teachers and pupils. To get another perspective, he also spoke with a neighbor of his host family who recently moved here from England. One notable difference was the practice in England of moving children through school by age or "grade" without serious concern for the level of accomplishment. Here in France it is very common for children to "redouble" a grade if they have not thoroughly mastered the material. This generally assures a better long-term success rate, and "redoubling" is generally not stigmatized as "failure." The result is a country with one of lowest rates of illiteracy in the world.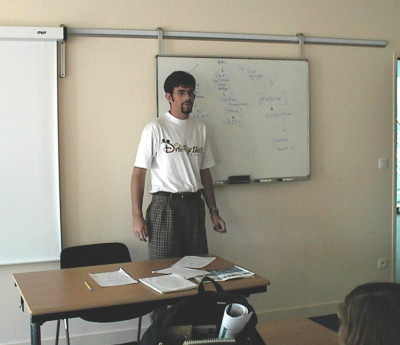 Kelly McKnight's inquiries have been focused on the legal system in France. Lawyers here are always addressed with the title "Maître," and she spoke at length with Maître Bodain, an attorney here in Les Sables. She gathered a wealth of fascinating information on both criminal and civil law. One interesting note was the fact that there is no obligation for the police to read rights to a suspect -- one case where reading is not fundamental! There is also no right to the presence of a lawyer during interrogation. In fact, the police may interrogate a suspect for up to 20 hours before allowing him to call a lawer. When the lawyer does intervene, it is only indirectly, since s/he may not be present during any questioning. We also learned today that half the lawyers in France are women and that more women than men are now able to pass to the rank of judge. Kelly also asked whether the 1981 abolition of capital punishment had had an impact on the crime rate in France. Maître Bodain said that no change in the rate of "capital crime" had been recorded. Another question Kelly posed concerned civil lawsuits, which seem far less a burden on the legal and business systems in France than in the US. Maître Bodain explained that in such cases plaintifs could only receive the value of actual damages and that "pain and suffering," "mental anguish," and "punitive awards" are not factors in such cases. From now on, I'll be giving special warning to our Vendéens who think tossing around all those cups of coffee at MacDonald's may actually pay off!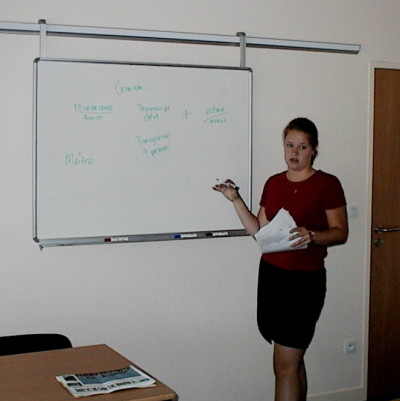 Like Brad, Nicole Angeliccio is also interested in education, so she began her project with interviews with her host parents Monsieur and Madame Cavan. The Cavan's are an exceptional couple in that one teaches in a public lycée and the other in a private lycée. You may have noticed in these pages that French history is filled with religious strife. One result of this strife was the 1905 laws (promoted by Vendée's own Georges Clemenceau) that established complete separation of church and state. While these laws had no direct impact on private religious practice, they strictly prohibit the teaching or practice of religion in public schools. Given the other side of Vendée's own history, you may not be surprised to know that this is the department in France with the highest number of private religious schools. During her visit to a local public lycée, Nicole was surprised to learn that a large percentage of the students were "pensionnaires" or students who lived on campus. Since some lycées have specialized programs, it is not uncommon for youthful scholars to leave home to pursue their secondary studies.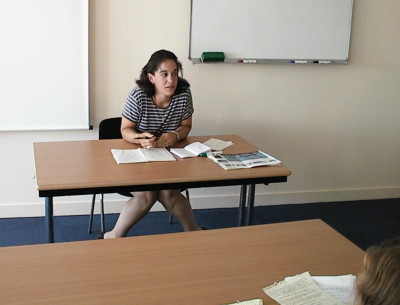 In logical succession to Nicole's presentation, Kimberly Dorman reports today on religious life in Les Sables. She interviewed several members of the community to get a feeling for the role religion plays in modern life. Her interview found that most people here are Catholic, but that they are generally not very active practitioners. Every person she spoke to had been baptized, but none of them goes regularly to mass. Only Easter, Christmas, and marriages are motive enough for most to come to church. Each of the persons Kimberly spoke to owns a Bible, but seldom if ever reads it. We should hardly be surprised, though, since most Catholic believers are not "fundamentalists."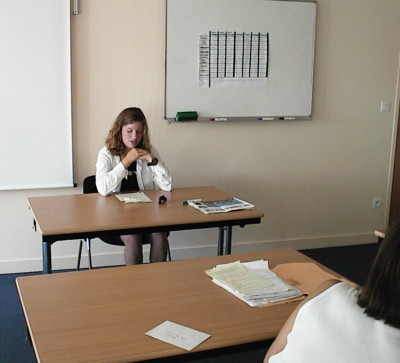 And now for the Rhythmetic, which is melodiously brought to us by Jodi Dowdell. She has explored the traditions of folk music in Les Sables, a project that led her to interview a member of the local music group known as Le Nouch. Le Nouch is well known to all in and around Les Sables, but few know that they take their name from a word related to the French "noeud" or "knot." The name was chosen at once to reflect the bow tie of the traditional costume and to render hommage to the many knots that are essential to the life of the sailors who make their port here. Le Nouch in fact make their own costumes, but they cannot always garantee the authenticity of their music -- many of the folk songs they sing were simply never written down... As an added treat, Jodi animated her presentation with several songs from both the general French tradition and from the music of old Vendée, the latter reflecting the airs and cadences of the Celtic music of Brittany just north of here.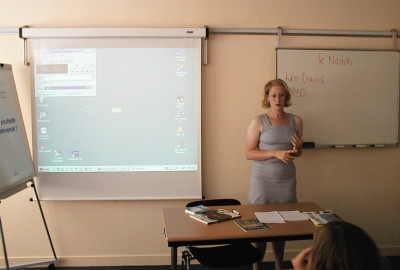 Another special treat for us today was the visit of the veteran WVU-Vendéen, Brian Hibbs. Brian was with us here last year and returned to France in the fall to spend a year studying in the city of Grenoble. He will spend the weekend with us and with friends he made in Les Sables last summer. He will return to his native Fairmont, WV on Monday.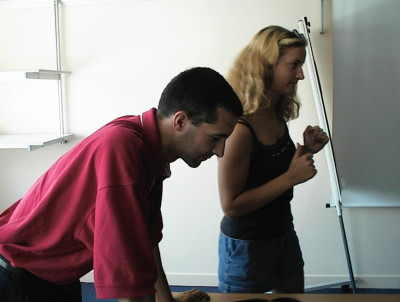 As we left Les Atlantes today, we spoke for a while with Nathalie Chevré, who has been an invaluable part of our program this year. It has been a real pleasure to work with her in arranging the details of all our excursions and field trips. I nominate her as an honorary Mountaineer.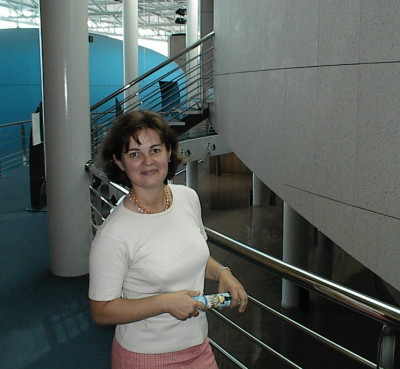 With a tear in my eye, I must report that today's class it the last full meeting of WVU-V 1999. Several of us will be leaving directly from the Futuroscope on Monday to catch the TGV from Poitiers to Paris. We know, though, that the cohesion of this exceptional group will keep them together in heart for years to come.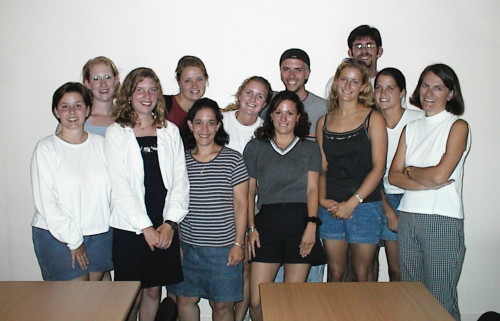 Stay tuned to WVU-V!
Go on to July 3, 1999
Return to the 1999 Calendar
Comments to mlasting@wvu.edu