West Virginia University in Vendée, France
Stormy weather...
May 31, 1999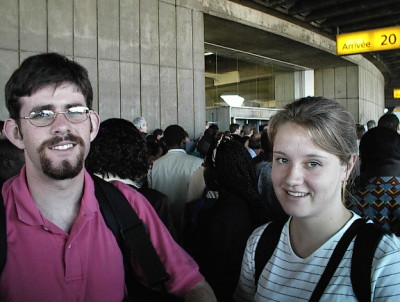 (Brad Gunnell and Kelly Mcknight await their luggage on the sidewalk in Charles De Gaulle Airport.)

This is my first posting, and I hope to update this page this evening if time permits. [If you've already found this page, I since have posted a few first photos 1999.] All things considered, we had a very sucessful crossing of the Atlantic. I found our flight with US Air direct from Pittsburgh to Paris very pleasant. It was, however, marked by moments of quite heavy air turbulence. That was nothing, though, compared to what we found when we arrived so quickly and easily to Charles De Gaulle Airport -- the "bagagistes" were on strike!!! We had to wait three hours on the sidewalk to get our luggage. This added to other elements of confusion, but we all were able to find our way to our respective destinations. V. Lastinger missed her TGV to Les Sables, but was able to get seats in one later in the day. I accompanied several of our Vendéens downtown as a couple of others met one of ours arriving on a later flight. As it turned out, Jennifer Jeffries (on the later flight) got her bags from Air France quite quickly and arrived at the hotel with her companions before I with my group. The roll of those we check in to the Hotel d'Amiens on the 29th is as follows: Nicole Angelicchio, Freddy Perkins, Kelly McKnight, Brad Gunnell, Kimberly Dorman, Kathleen Schattenberg, Jennifer Jeffries, Jodi Dowdell. According to the receptionist two other, whom I presume to be Helena Racin and Amy Workman, were already installed in their rooms. I had just the time to get the receptionist's assurance that she would take care of a problem with the reservation (all the rooms were not yet ready), and run across town to catch my TGV for Les Sables.
The big news in France right now is a giant storm -- very possibly the one we flew over en route -- that swept across France yesterday morning (the 30th). Hundreds of homes in the Paris region were left without electricity. I personnally heard the storm in the night and morning as it passed over, but by the time I got up the sun was shining and the weather here in Les Sables was beautiful -- blue skies and 83 degrees! The second item that concerns us more directly is the strike by workers in several Paris museums. We may have a few changes in our program for Paris if the Louvre is closed, but our guide Madame Benoist is sure to find very suitable alternatives. We'll be in contact with her this evening.
We Lastinger's, now in Les Sables, have hardly had time to turn around before taking the TGV back to Paris tomorrow, where we will rejoin the WVU-Vendéens. I've had a much harder time than I expected getting my internet connection, so I'm running a bit behind on other the States. In the end I have succeeded in connecting through AOL, France. This looks like a very fine service. I'm not sure, though, that I'll be able to post from Paris -- our days will be very long there. I'll do my best, and in the most delayed of circumstances, my regular postings should begin in earnest by next Saturday or Sunday. I hope then to post some pages from Paris and our Vendéens' first meeting with their host families.
Stay tuned to WVU-V!
Go on to June 1, 1999
Back to the Calendar
Comments to: mlasting@wvu.edu