West Virginia University in Vendée, France


D-Day: the Americans land on the beaches of France!
June 6, 1998
Saturday morning is left open for a free visit, a sleep in, or just time to pack. The Doctors Lastinger take the time to visit the Musée Rodin. In the magnificent gardens one sees such masterpieces as "Le Penseur" (The Thinker), here with the dome of Les Invalides and the tomb of Napoleon in the background.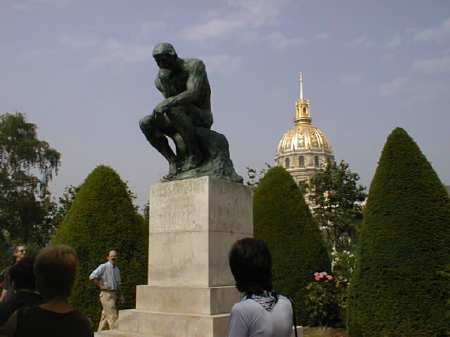 Inside the Musée Rodin, one finds not only the works of Rodin, but also those of his famous associate, Camille Claudel. Below is her celebrated Petite Chatelaine from 1895.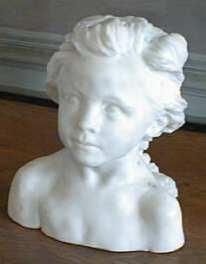 Just after lunch, the WVU-Vendéens gather on the place before the Gare Montparnasse.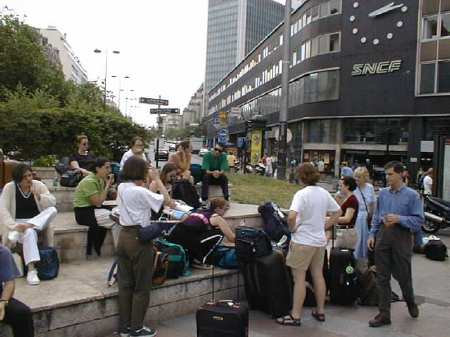 A few of the soon-to-be Vendéens enjoy the ride at 300 km/hr in the TGV.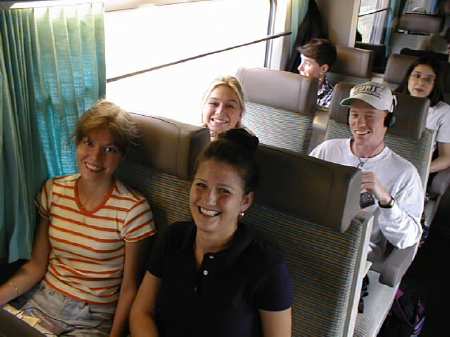 After a quick change in Nantes and a ride down to Les Sables, the WVU-Vendéens descend from the train in the Atlantic terminus station of Les Sables d'Olonne.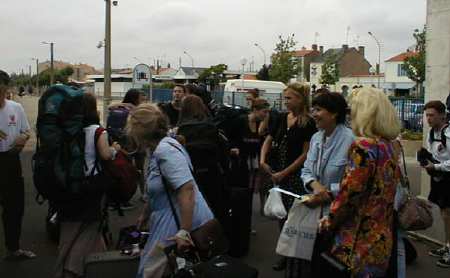 Inside the station of Les Sables, Dr. V. Lastinger calls the roll and unites our students with their host families.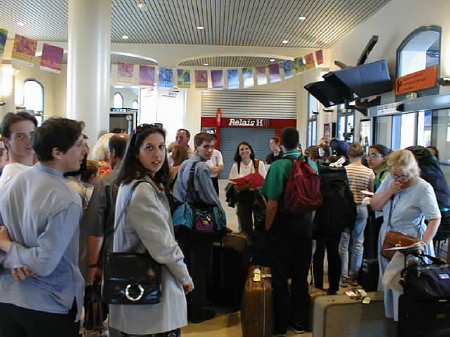 All but one of the the Vendéens were captured on M. Lastinger's digital camera before they left the station:

Shelley Albright is received by the Bicaud.
Mona Iskander and Betsy Goosman meet the Diochin family.
Amanda Walker is welcomed by M. Boileau and his children.
Kristi Widlak and Christin Cox with Madame Thébaud and daughter.
Megan Sadler with Madame Petiville and children.
Susan Cressman is welcomed by the Gilbert family.
Julian Brayman meets with Madam Dubois (the guys, all sports fans to a fault, are surely watching a soccer match and waiting for Julian's American insights into the game in question -- tomorrow it's the Grand Prix Formula One of Montreal!).
Kate Wright prepares to depart with Madame Landais and son.
Brian Hibbs, Marjorie Martorella and Eric Peters are received by Madame Kramer.
Jennifer Campbell will be the guest of Antoine Crêtaux and family. Monsieur Crêtaux is the brother of Madame Lastinger. Madame Grandpierre who has engineered this whole assembly is pictured at the right. Also in the photo are Michael and Allison Lastinger.
For some reason M. Lastinger failed to capture the uniting of Cristy Vogel with the Lhuissier family. Fear not, Monsieur and Madame Lhuissier are avid golfers. I will do all in my power to gain further photo ops of this group (and a round or two of golf, as well).


Stay tuned to WVU-V!
Go on to June 8, 1998.