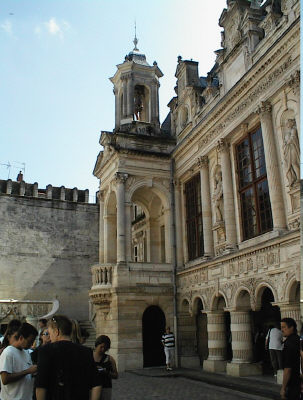 From that day forward La Rochelle was aware of its special destiny. It was the city of the future, independent and free. When Eleanor, the Duchess of Aquitaine, ruled here there were few more privileged places in the world. Eleanor's marriage to King Louis VII of France was disquieting, but she managed bring the city along with a new charter augmenting its rights and diminishing its taxes. When Eleanor and Louis returned from the Second Crusade, their marriage was in ruins. It was soon annulled on a technicality (they were distant cousins, a fact known to all before their union). Eleanor sought the quickest vengeance possible. She married the Prince Henri PlantagenÍt, Count of nearby Anjou. As a descendent of William the Conqueror, Henri soon became Duke of Normandy and King Henry II of England.

To encourage La Rochelle to accept the new ascension, Eleanor granted a new charter and new rights to the city. This trend continued with Eleanor's children Richard the Lion Heart and his brother and successor King John. By the time of John's reign the trend had gotten out of hand and the barons of England went so far as to unite forces to demand a special charter for all the lords of that land. It was a "big charter", known in Latin as the "Magna Carta" to which all modern constitutional government can be traced.

As centuries passed, La Rochelle continued in its ways of freedom. As the Renaissance came, it was a fertile ground for that new set of religious ideas we call Protestantism.