Life After an MFA Or Reasons for Me to Get Out of Bed and Hope for the Future
As a second year MFA candidate in fiction, I try not to think about spring of 2013, that scary year that I'll have to leave the safety net of WVU and venture out into the academic "real world." In fact, that thought alone is enough to make me hole up in my house and watch copious amounts of Jane Austen period pieces. In short, it's enough to make me live in a world of denial, and I like my denial world to have Colin Firth in it. Luckily though, there might be a reason to turn off Pride and Prejudice (the BBC version, of course) and have hope for the future. The hope? With preparation comes the possibility of employment.
On a Rooftop, Shout it Out: Meeting the New MFA
Sometimes our greatest talent can be a curse. That period of time between receiving the acceptance letter from Mark Brazaitis and the first workshop, I was alone with the thing that got me here: my imagination. In my imagination, there were hobgoblin peers that crossed out my lines with their six-inch nails. I had daymares that my writing was a joke, that the only good idea I ever had was my portfolio, and I feared I was a fiction-hack. Then, it was August, and workshop was lovely. My peers had pleasant faces and well-kept fingernails. Then, it was the MFA Meet and Greet (an annual tradition) and I thought, I can definitely be friends with these rad people who can write, cook, and converse. Then, I eased slowly into this strange place that rejects grid-maps and swears by pepperoni rolls, and, a year later, it's not so strange anymore.
Young Writers Update
In the summer newsletter, we neglected to mention that the Young Writers' Holiday would not be possible without the generous sponsorship of the National Writing Program (NWP).
Get Involved

Every gift to the Creative Writing Program is important. By building a strong network of alumni, friends, and parents who are annual contributors, the Creative Writing Program is able to provide our students access to scholarships, services, grants, readings by acclaimed authors, and enhanced learning opportunities. Collectively, hundreds of individual gifts allow the Creative Writing Program to carry on the tradition of excellence at West Virginia University.

Click here to visit out online giving form. Under designation, select "other".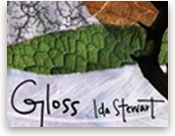 | | |
| --- | --- |
| | Congratulations to undergraduate alumna, Ida Stewart, whose first collection of poems, Gloss, won the 2011 Perugia Press Award (a national poetry award for a first or second book by a woman).Read more... |
EVENTS
The public is welcomed at all readings and encouraged to attend.
| | |
| --- | --- |
| | MFA alumni, Katie Fallon and Ida Stewart, will give a reading at 7:30p.m. in 130 Colson Hall. View Calendar... |
| | Zachary Schomburg & Manual Cinema will give a reading at 8:00 p.m. at 123 Pleasant St.View Calendar... |
| | Matthew Zapruder will read his poetry at 7:30 in the Robinson Reading Room in the Downtown Library. He is this year's spring reader.View Calendar... |
| | |
| --- | --- |
| | The undergraduate Creative Writing program will give a reading from this year's Calliope, the undergraduate literary magazine, at 7:30 in 130 Colson Hall. View Calendar... |
| | |
| --- | --- |
| | The MFA graduating class will read at 7:30 in the Rhododendron Room in the Mountainlair.View Calendar... |