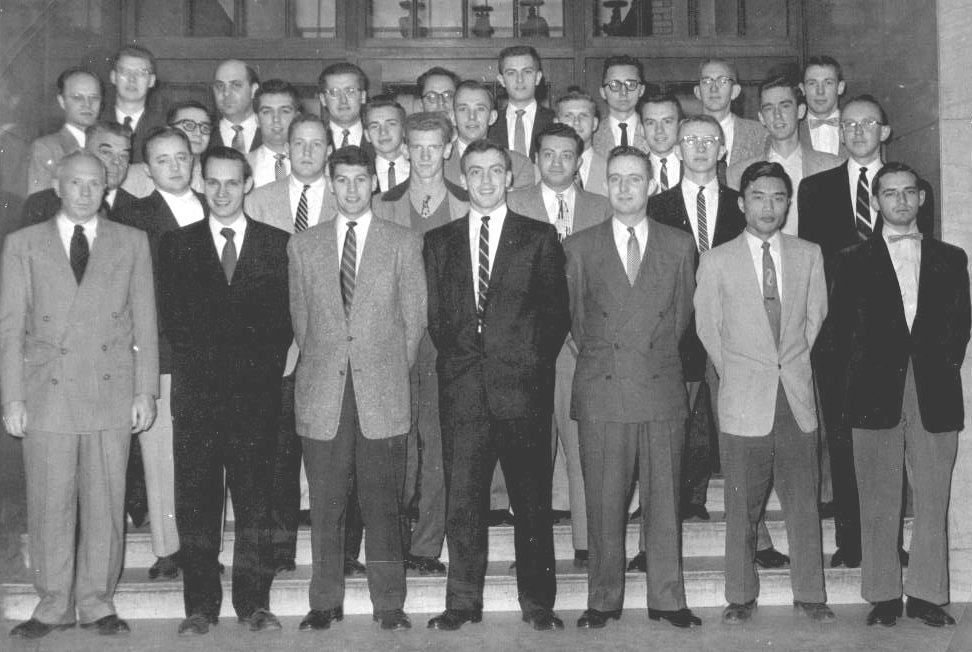 Tau chapter circa 1954
If you are an alumni of the Tau Chapter of Phi Lambda Upsilon, we would love to hear from you. Please drop us a quick note letting us know what is happening in your professional and/or personal life. Are you an alumni of the Tau chapter and are missing from this page? Would you like to speak at WVU? Would you like to help our chapter with a donation? Could you help current members find a job at your company? Please contact us at PLU.Tau@gmail.com. We look forward to hearing from you!
Please search the alumni lists below by last name.
The year indicates the year initiated.
A|B|C|D|E|F|G|H|I|J|K|L|M|N|O|P|Q|R|S|T|U|V|W|X|Y|Z
| | |
| --- | --- |
| ABRAHAM, FRANK M. | 1983 |
| ADAMS, CHARLES R | 1930 |
| ALBRIGHT, CHARLES W. | 1949 |
| ALEXANDER, ALBINA S. | 1970 |
| ALFRED, TEDDY C. | 1978 |
| ALIDINA, ARIF A. | 1978 |
| ALLINDER, JOE A. | 1926 |
| ALSOP, GEORGE M. | 1965 |
| AMOROSE, DAVID M | 1989 |
| ANDERSON, BRUCE MARTIN | 1966 |
| ANDERSON, JOHN R. | 1934 |
| ANDERSON, RICHARD L. | 1965 |
| ANDERSON, TRAVIS A. | 2005 |
| ANDERSON, WILLIAM PHILIP | 1953 |
| ANGOTTI, MICHAEL T. | 1978 |
| ARAKALI, ARUNA V. | 1973 |
| ARCHER, ELWOOD R. | 1951 |
| ARMOUR, CARL | 1930 |
| ARNETT, LYDA M JR. | 1937 |
| ARNOLD, ELDON D. | 1950 |
| ARNOLD, REGINA M. | 1979 |
| ARNOTT, ROBERT A. | 1962 |
| ASHCRAFT, HAROLD GLENN | 1978 |
| ASHLEY, RALPH RANDALL | 1949 |
| ASPIOTE, JOHN | 1941 |
| ASPLUND, RUSSELL OWEN | 1957 |
| ATKINSON, LISA A. | 1983 |
| AUSTRIA, ALFONSO P. | 1991 |
| AYRES, THOMAS W. JR. | 1946 |
| AZAR, LOUIS | 1937 |

| | |
| --- | --- |
| BAER, BYRON NORMAN | 1938 |
| BAILEY, JAMES SILAX | 1936 |
| BAILEY, THOMAS | 1986 |
| BAILO, RICHARD ALAN | 1970 |
| BAJGUR, CHANDRA S. | 1982 |
| BAKER, BRENDA | 1979 |
| BAKER, WALTER WESLEY | 1943 |
| BALDWIN, CARSON DANIEL | 2002 |
| BALL, EARL JUNIOR | 1947 |
| BALL, LOWELL CORDELL | 1969 |
| BALL, RICHARD WILLIAM | 1972 |
| BAMBERGER, ROBERT LEE | 1967 |
| BANIAK, EDMUND L. II | 1979 |
| BARBER, JERRY RANDEL | 1961 |
| BARGIBAND, RONALD FRANK | 1967 |
| BARKLEY, LESTER WASS JR. | 1948 |
| BARNARD, RICHARD HALL | 1955 |
| BARNETT, HERALD A. | 1948 |
| BARRETT, SAMUEL J. | 1931 |
| BARTKUS, EDWARD PETER | 1941 |
| BARTLETT, JOHN FRANK | 1926 |
| BASILE, ALFREDO EZIO | 1954 |
| BASTUG, DENIZ FRANCIS | 1982 |
| BAUGHMAN, NEWTON MOORE | 1958 |
| BAWLD, NATHAN LOUIS | 1955 |
| BEACH, DIANE | 1977 |
| BEARD, BRENDA J. | 1977 |
| BEATTY, JOHN R. | 1974 |
| BEDERKA, JOHN PAUL | 1958 |
| BEEGHLY, JAMES H.L. | 1971 |
| BEEGHLY, SARA LYNN | 1977 |
| BEES, JOHN HENRY | 1950 |
| BELLOTT, EMILE MELVIN JR. | 1970 |
| BEN, DAVID S | 1989 |
| BENNETT, CLINE EUGENE | 1949 |
| BENNETT, NANCY LEE | 1977 |
| BENSLEY, DENNIS M. JR. | 1984 |
| BENSON, MARILEE | 1974 |
| BENVENUTO, JOHN ANTHONY | 1968 |
| BERARDINELLI, STEPHEN P. | 1984 |
| BERG, FREDERIC J. | 1988 |
| BERGER, HENRY JR. | 1964 |
| BERRY, ANGELA K. | 1996 |
| BERTA, DOMINIC ANDREW | 1964 |
| BEVER, SAMUEL D | 1985 |
| BEZILLA, BERNARD M. JR. | 1976 |
| BLAIR, JAMES BRYAN | 1965 |
| BLAIR, PAUL ALEX | 1972 |
| BLESSING, MICHAEL A. | 1970 |
| BLIZZARD JAMES M. JR. | 1956 |
| BLUME, THOMAS EDWARD | 1972 |
| BOBBILL, JAMES MCGUE | 1950 |
| BOBST, ROBERT WILLIAM | 1964 |
| BOLDRIDGE, WILLIAM F. | 1940 |
| BOLLING, JOHN MENGE | 1945 |
| BONAR, DANIEL DONALD | 1959 |
| BONI, SABRINA | 1986 |
| BOONSUE, ELIZBETH R. | 1982 |
| BOONSUE, MARTHA NORUMIT | 1982 |
| BORROR, JOHN WILLIAM D. | 1933 |
| BOSLEY, DAVID E | 1950 |
| BOSWELL, JOHN | 1978 |
| BOUNDY, DELMONT JAMES | 1950 |
| BOURN, WARREN SCUDDER | 1924 |
| BOURN, WARREN SCUDDER JR. | 1949 |
| BOWEN, RICHARD E. | 1970 |
| BOYD, ROBERT EDWARD | 1974 |
| BOYKO, ZACHARY | 2005 |
| BOZIS, RONALD A | 1969 |
| BRADFORD, WESLEY LAMONT | 1966 |
| BRANCAZIO, LISA ANN | 1982 |
| BRANNON, DONALD EATES | 1960 |
| BRIGGS, LEON BURDETTE JR. | 1978 |
| BRISLAN, JOHN B. | 1973 |
| BRISSEY, RUBEN MARION JR. | 1947 |
| BRITT, WILLIAM SAMUEL | 1954 |
| BRITTON, CHARLES EDWARD | 1939 |
| BROADFOOT, WALTER MARION | 1938 |
| BROCK, JOHN W. | 1939 |
| BROOKOVEY, THEODORE REID | 1956 |
| BROOKS, STEPHEN RANDOLPH | 1969 |
| BROWN, DILLON SIDNEY | 1938 |
| BROWN, PAUL NORRIS | 1930 |
| BROWN, ROSS DUNCAN JR. | 1956 |
| BROWN, WILLIAM CARSON | 1938 |
| BROWNING, CHARLES EDWARD | 1966 |
| BROWNING, GEORGE M. | 1938 |
| BROWNING, PAUL DAVID | 1966 |
| BRUMAGE, MICHAEL ROSS | 1982 |
| BRUNO, KIMBERLY A | 1989 |
| BUCHANAN, ROBERT M. | 1977 |
| BUCHER, DAVID L. | 1966 |
| BUCY, WILLIAM EARLE | 1971 |
| BURGESS, JONATHAN COKE | 1963 |
| BURNSIDE, H. EDGAR WAYNE | 1933 |
| BUROW, DUANE FRUEH | 1962 |
| BUSCH, GINA | 1978 |
| BUSH, HOBERT HOWE | 1928 |
| BUSHICK, RONALD DALE | 1953 |

| | |
| --- | --- |
| CACCIOLA, JOSEPH | 1989 |
| CAFLISCH, GEORGE BARRETT | 1972 |
| CAI, GUIMEI | 2004 |
| CALDWELL, WALTON B. III | 1968 |
| CALLAGHAN, EULAI B. | 1924 |
| CAMPBELL, CLYDE DEL | 1957 |
| CAMPBELL, DONALD NOBLE | 1950 |
| CAMPBELL, WILLIAM M | 1960 |
| CANADA, EDGAR DELANEY | 1971 |
| CANNARELLA, J. THOMAS H. | 1937 |
| CARDER, CYNTHIA | 1986 |
| CAREY, BRYAN M. | 1991 |
| CARNEY, WILLIAM JAMES | 1952 |
| CARPENTER, THOMAS JACK | 1949 |
| CART, ERNEST BRUCE | 1956 |
| CARTER, MICHAEL F. | 1980 |
| CASSIS, FRANK ASA JR. | 1947 |
| CASTALDO, CAMILLE J | 1989 |
| CATHERS, GEORGE IVAN | 1939 |
| CAVENDER, SUSAN LYNN | 1979 |
| CERNUSKA, WILLIAM JOSEPH | 1972 |
| CHAK, PADMINI | 1978 |
| CHAKRABARTI, ASHOK | 1978 |
| CHAMBERS, EMILY | 2006 |
| CHAPLIN, ALLEN LESTER | 1934 |
| CHAPMAN, DAVID A. | 1967 |
| CHERRY, WILLIAM | 1979 |
| CHERVENICK, SCOTT | 1991 |
| CHESNY, EDWARD J. JR. | 1977 |
| CHILDERS, ROBERT LEE | 1960 |
| CHITWOOD, HENRY CADY | 1930 |
| CHU, F. SUN | 1959 |
| CINALLI, MARK JAMES | 1978 |
| CINICOLA, JOHN | 1982 |
| CIPOLETTI, PATSY PAUL JR. | 1973 |
| CITARELLI, JOSEPH FRANK | 1969 |
| CLARK, DONALD FREDERICK | 1964 |
| CLARK, RICHARD BENNETT | 1941 |
| CLARK, SAMUEL FRIEND | 1933 |
| CLAWSON, RONALD W JR | 2002 |
| CLAY, MICHAEL PHILLIP | 1977 |
| CLEAVENGER, RONALD LEE | 1971 |
| CLEMENTS, WILLIAM LESLIE | 1972 |
| CLINE, CYNTHIA J. | 1978 |
| CLINE, RICHARD EUGENE | 1964 |
| CLIPPER, SCOTT A | 1985 |
| COBERLY, CAMDEN ARTHUR | 1943 |
| COCHRAN, RONALD LEE II | 1972 |
| COCHRANE, THOMAS J. JR. | 1949 |
| COCKRANE, THOMAS JOSEPH | 1926 |
| COFFMAN, RAPHAEL THOMAS | 1937 |
| COFFMAN, SHAWN WAYNE | 1982 |
| COLLINS, CHARLES C. | 1977 |
| COLLINS, MIKE GOUPLEY | 1950 |
| COLLINS, THOMAS LEO | 1951 |
| COMM, HARRY ANTON | 1958 |
| CONARD, JOHN ROBERT | 1938 |
| CONARD, RALPH WILLIAM | 1947 |
| CONFORTI, DANIEL MICHAEL | 1972 |
| CONN, JOHN BYRON | 1931 |
| CONN, ROBERT CARLAND | 1930 |
| CONN, SUSAN ELIZABETH | 1972 |
| CONNER, ROBIN KIM | 1973 |
| COOL, RAYMOND DEAN | 1946 |
| COOVER, LEONARD RAY | 1977 |
| COPENHAVER, JOHN W. | 1930 |
| COPENHAVER, LISA ANN | 1982 |
| CORNELIA, RICHARD H | 1962 |
| COSBY, LOWELL ALLEN | 1966 |
| COX, ELIZABETH DIANNE | 1985 |
| COYLE, CANDACE M. | 1996 |
| CRAWFORD, JOHN GORDON | 1950 |
| CRAWFORD, MICHAEL DILLAN | 1976 |
| CRAWFORD, THOMAS STEPHEN | 1925 |
| CREWE, GEORGE FRANKLIN | 1949 |
| CRINGER, GASPARD XAVIER | 1950 |
| CRISER, RICHARD LEROY | 1966 |
| CRITCHFIELD, FRANK E. | 1949 |
| CROCKETT, WILLIAM EDWARD | 1954 |
| CRONIN, DANIEL F. JR. | 1946 |
| CROSS, MAXWELL DAVID | 1938 |
| CUI, JIANXIA | 2002 |
| CUNNINGHAM, MICHAEL E | 1973 |
| CUNNINGHAM, ORPHA RONSEL | 1950 |
| CUNNINGHAM, ROBERT ELWIN | 1950 |
| CUONO, CHARLES BOSETTI | 1970 |
| CURRAN, JAMES EDWARD | 1927 |

| | |
| --- | --- |
| DAI, WEIXIANG | 2005 |
| DALAL, NAR S. | 1980 |
| DARLAK, ROBERT STANLEY | 1961 |
| DAUGHENBAUGH, PAUL JONES | 1924 |
| DAUGHERTY, RAYMOND P. JR. | 1964 |
| DAUGHERTY, ZENAS | 1947 |
| DAVIS, CHARLES S. | 1956 |
| DAVISSON, RUSSELL LEE | 1946 |
| DAY, JOHN CHARLES | 1962 |
| DAY, PHILIP WAYNE | 1976 |
| DEAN VICTOR, CLAUDE | 1940 |
| DEAN, GEORGE LEWIS | 1955 |
| DEAN, GEORGE W III | 1950 |
| DEAN, WARREN EDGEL | 1955 |
| DEANGELIS, RICHARD JOHN | 1979 |
| DELOOZE, JEFFREY P. | 1984 |
| DEMATTE, MICHAEL LEO | 1962 |
| DENTON, DONALD DENNIS | 1949 |
| DEPOND, ROBERT TODD | 1985 |
| DEVRIES, ARTHUR DOWWE | 1935 |
| DEWEZ, FERNAND JOSEPH JR. | 1950 |
| DHARANI, PRAGADA R.M. | 1981 |
| DIETZ, JAMES REGINALD | 1950 |
| DIETZ, JOHN WILLIAM | 1954 |
| DILMORE COLONEL ROSS JR. | 1954 |
| DIXON, HOWARD DOUGLAS | 1951 |
| DOBBINS, THOMAS OKEY | 1954 |
| DODGE, EVERETT LANDIS | 1929 |
| DOMINICK, THEODORE LEE | 1966 |
| DONER, DAVID MICHAEL | 1970 |
| DONHAM, PAUL JENNINGS | 1924 |
| DONNELLY, JOSEPH R | 1972 |
| DOTSON, JAMES MILBURN | 1949 |
| DOUGHTY, JOSEPH BAYNE | 1942 |
| DOURLET, ERNEST FRANCIS | 1948 |
| DOWLING, DANIEL JOHN | 1950 |
| DOWLING, WILLIAM C. | 1949 |
| DOWNS, HARTLEY H. III | 1974 |
| DOWNS, WILLIAM RICHARD | 1932 |
| DOYLE, TIMOTHY J | 1989 |
| DRAKE, BERNARD R. | 1935 |
| DRAPER, CHARLES HUGH | 1951 |
| DRIVER, CHARLES WILLARD | 1925 |
| DROSICK, DAVID RANDOLPH | 1981 |
| DUDA, WILLIAM WALTER | 1933 |
| DUDDERAR, FREDERICK A. | 1939 |
| DUHAMEL, A. PAUL | 1957 |
| DUNCAM, JOSEPH H | 1991 |
| DUNCAN, IRA J. | 1933 |
| DUNLAP, KENNETH L. | 1970 |
| DUNN, WILLIAM NELSON JR. | 1930 |
| DUNNAVANT, KAY E. | 1982 |
| DYER, JEFFREY CORBIN | 1968 |

| | |
| --- | --- |
| EAGLE, RAYMOND SCHNEIDER | 1949 |
| ECCLES, EDWIN J. JR. | 1948 |
| EDWARDS, LAURENS FRANK | 1950 |
| EGAN, JAMES W. JR. | 1978 |
| ELKINS, JOHN RUSS | 1965 |
| ELLER, PHILLIP GARY | 1966 |
| ELLISON, DAVID LOWELL | 1967 |
| ELMORE, EARLE L | 1931 |
| ELRICK, DON EDWARD | 1947 |
| ENGLAND, JOHN DAVID | 1975 |
| ENGLE, WILLIAM S. | 1941 |
| ENGLEHART, OSCAR D. | 1928 |
| ESKOW, EUGENE STEVEN | 1980 |
| ESTEP, EDWARD ENAS | 1952 |
| ESTEP, PATRICIA A. | 1970 |

| | |
| --- | --- |
| FAGIOLETTI, ROBERT J. | 1965 |
| FAIR, DAVID | 1978 |
| FALCK, EDGAR L. | 1933 |
| FALLER, JAMES GEORGE | 1958 |
| FALLOON, STEPHEN B. | 1991 |
| FAN, LIANG-TSENG | 1955 |
| FARNSWORTH, DANA L. | 1926 |
| FARR, STANLEY | 1957 |
| FARRIS, JOSEPH HARVEY II | 1977 |
| FAZI, BURT | 1978 |
| FAZI, LISA | 1986 |
| FEATHERSTONE, JOHN L. | 1971 |
| FERGUSON, CHRISTOPHER | 1970 |
| FERGUSON, THOMAS R. JR. | 1955 |
| FERGUSON, THOMAS RITSON | 1924 |
| FERRARI, NORMAN DAN III | 1978 |
| FISHER, ALAN V. | 1970 |
| FISHER, JOHN FREDERICK | 1958 |
| FISHER, REBECCA D | 1989 |
| FITZGERALD, WALTER JACK | 1953 |
| FLANDERS, ELAINE L. | 1982 |
| FLETCHER, LARRY ROBERT | 1967 |
| FLOWERS, LYNN | 1982 |
| FLOWERS, ROBERT GRANT | 1938 |
| FLOWERS, ROBERT STERLING | 1950 |
| FODOR, GABOR BELA | 1971 |
| FOGLESONG, ROBERT HENRY | 1967 |
| FOLMER, ORVILLE FRED JR. | 1951 |
| FORD, AUBREY E. | 1924 |
| FORD, LLOYD KEITH | 1961 |
| FORESTER, WILLIAM C. | 1971 |
| FORMAN, BONNIE J. | 1991 |
| FORTE, PATRICK JOHN | 1978 |
| FORTNEY, ALTON REE | 1924 |
| FOX, EDWARD JORDAN | 1928 |
| FRAKER, JOSEPH ELMER JR. | 1942 |
| FRAME, ROBERT ARNETTE JR. | 1955 |
| FRANKO, BERNARD VINCENT | 1953 |
| FREDLOCK, JENNY | 1983 |
| FRETWELL, SYLVESTER W. | 1959 |
| FRIEL, DARRELL RENICK | 1972 |
| FRIEND, LLOYD LOWNDES JR. | 1934 |
| FRIEND, WAYNE ZEARLEY | 1924 |
| FRINCKE, ROBERT BRENNER | 1940 |
| FRYE, PAUL E. | 1971 |
| FULLER, MARK GUTHRIE | 1976 |
| FULLMER, JOHN L | 1958 |
| FURBEE, JACK | 1925 |

| | |
| --- | --- |
| GABRIEL, JAMES ANDREW | 1966 |
| GABRIELE, FREDERICK JOHN | 1984 |
| GAERTNER, RICHARD F | 1955 |
| GAINER, HUBERT CLAIR | 1943 |
| GAINER, JOHN LLOYD | 1958 |
| GAINER, KAREN LOIS | 1976 |
| GALLI, ALFRED FREDDIE | 1947 |
| GAO, DONG | 2003 |
| GARDNER, BILLY FRANK II | 1973 |
| GARNER, LIONEL AUDREY | 1963 |
| GARNER, WARREN LEE | 1951 |
| GATES, OWEN RIGINOLD | 1929 |
| GAVER, STEVEN K. | 1976 |
| GAVLAS, JAMES FRANCIS | 1967 |
| GAZIANO, JOHN M. | 1982 |
| GEILER, F.L. | 1930 |
| GENDA, JEFFREY | 2006 |
| GENEIDY, AHMAD | 1953 |
| GERGITS, FRANKLYN III | 1985 |
| GEVAS, STEVEN G. | 1978 |
| GIBSON, JAMES HAROLD | 1951 |
| GIBSON, JOHN ARTHUR JR. | 1927 |
| GILL, ROBERT CAMERON | 1964 |
| GILLENWATER, LYHLE EDGAR | 1949 |
| GLASGOW, RICHARD HOWARD | 1969 |
| GLASPELL, GARRY PAUL | 2002 |
| GLENN, WILLIAM BUDD JR. | 1962 |
| GNEGY, MARGARET E. | 1970 |
| GOELLNER, AUGUST FRED | 1968 |
| GOLDBERG, GUS D. | 1930 |
| GOLDFARB, GLENN ROBERT | 1978 |
| GOODWIN, FREDERICK MARK | 1980 |
| GOODWIN, SALVATORE R. | 1970 |
| GOODYEAR, WILLIAM F. JR. | 1956 |
| GORRELL, LEWIS OLIVER | 1927 |
| GRAFF, JOHN HARVEY | 1951 |
| GRAHAM, RONALD DEAN | 1970 |
| GRANDINETTI, PHILIP J. | 1980 |
| GRAVES, CYNTHIA FRANCES | 1984 |
| GRAYBEAL, JACK DANIEL | 1950 |
| GREATHOUSE, MARK KEVIN | 1978 |
| GREEN, PAUL JOSEPH | 1965 |
| GREENWOOD,THOMAS DUANE | 1964 |
| GREGORY, ALLAN ROSS | 1982 |
| GREGORY, JACK HASLAM | 1943 |
| GREULICK, JOAN ELIZABETH | 1971 |
| GRIBBEN, ROBERT EDMUND | 1959 |
| GRIFFITH, JESSE SAMUEL | 1958 |
| GROSE, JOSEPH TYLER III | 1955 |
| GUM, ERNESAT K. JR. | 1969 |
| GUM, MARY LOU BISHOP | 1970 |
| GUPPI, SANJEEVA | 2003 |
| GUSEMAN, JAMES ROBERT | 1955 |
| GUY, ERNEST SAMUEL | 1974 |

| | |
| --- | --- |
| HADEN, JOSEPH RICHARD JR. | 1962 |
| HALBRITTER, KEVIN ASHLEY | 1980 |
| HALEY, EUGENE E. | 1986 |
| HALEY, EUGENE ERNEST | 1940 |
| HALL GEORGE ARTHUR JR. | 1940 |
| HALL, DAVID JOSEPH | 1983 |
| HALL, JAMES LESTER | 1930 |
| HALL, KENDALL LEON | 1939 |
| HALL, WADE ECKES | 1943 |
| HALSTEAD, WILLIAM DYRK | 1976 |
| HAMB, FREDRICK LYNN | 1962 |
| HAMILTON, PENNY JO | 1984 |
| HAMILTON, WILLIAM C. | 1982 |
| HAMSTEAD, ALVAN G. | 1929 |
| HANES, REBECCA | 2005 |
| HANOZO, CHARLES STEPHEN | 1971 |
| HANRAHAN EDWARD S. | 1955 |
| HANSEN, LORENZ PETER | 1927 |
| HANSEN, ROBERT THOMAS | 1968 |
| HANWAY, JAMES EDWARD | 1985 |
| HANWAY, JOHN EDGAR JR. | 1949 |
| HARDESTY, CLIFFORD L. JR. | 1967 |
| HARDMAN, HARLEY FOCH | 1939 |
| HARDMAN, JOANNA | 1986 |
| HARE, CHARLES B. | 1991 |
| HARE, JAMES FRANKLIN JR. | 1947 |
| HARKER, ROBERT STEPHEN | 1949 |
| HARKINS, HAROLD EARL | 1925 |
| HARTSOOK, ELMER WILLIAM | 1949 |
| HARVEY, JAMES PRESTON | 1950 |
| HASSICK, DENIS EDWARD | 1965 |
| HAUGHT, ARTHUR PAUL | 1932 |
| HAUGHT, JOAN | 1984 |
| HAVENER, JOHN F. | 1933 |
| HAVRILLA, GEORGE J | 1978 |
| HAWKER, LESLIE EARL | 1960 |
| HAWLEY, CHARLES WIRT | 1928 |
| HAYMOND, G. SCOTT | 1996 |
| HEADLEE, ALVAH | 1929 |
| HEADLEE, SAMUEL NATHAN | 1929 |
| HEALY, JEANNINE M. | 1986 |
| HEDRICK, JERRY LEO | 1965 |
| HELMBRIGHT, LOUIS P. | 1927 |
| HENNING, JAMES EDWARD | 1947 |
| HENRY, JOSEPH DANIEL JR. | 1963 |
| HENRY, ZACHARY | 2005 |
| HENSLEY, SAMUEL D. | 1974 |
| HERBST, JOHN ANTHONY | 1969 |
| HERNDON, LYLE KERMIT | 1925 |
| HERRING, ROSEMARY | 1970 |
| HERRIOTT, GEORGE EPHRAIM | 1965 |
| HERTZOG, RICHARD ROSS | 1950 |
| HESBACH, PETER A. | 1977 |
| HESS, NANCY D | 1989 |
| HICKMAN, JAMES BLAKE | 1941 |
| HICKMAN, MICHAEL TAYLOR | 1975 |
| HILL, HERBERT | 1925 |
| HISE, MICHAEL K. | 1969 |
| HOBACK, JOHN HOLLARD | 1943 |
| HOBACK, KARL FRANKLIN | 1952 |
| HOFF, MARION ROWLAND | 1931 |
| HOKANSON, STEPHEN P. | 2005 |
| HOLDEN, JOHN HEYWOOD | 1946 |
| HOLLAND, DONALD RAY | 1956 |
| HORNBROOK, KENT ROGER | 1957 |
| HOSKINS, HOMER A | 1929 |
| HOUGHT, JOHN W. | 1929 |
| HOUVOURAS, ELEUTHERIOS T | 1943 |
| HOWARD, KEVIN EDWARD | 1979 |
| HOWARD, VICTOR | 1941 |
| HSIUNG, CHEN PEI | 1972 |
| HUANG, PAUL LIANGLII | 1972 |
| HUDIMAC, SCOTT ANDREW | 1984 |
| HUFFMAN, WILLIAM JAY | 1959 |
| HULL, LARRY A. | 1970 |
| HULL, STEPHEN JESSE | 1969 |
| HULL, VIRGIL JOSEPH | 1964 |
| HUME, KATHRYN ANN | 1974 |
| HUMPHRIES, ROBERT ELMER | 1932 |
| HUNTER, WALTER DALE | 1940 |
| HUNTSBERGER, JAMES R. | 1949 |
| HUNTSMAN, JAMES RICHARD | 1967 |
| HURET, TERRY MARTIN | 1972 |
| HURLEY, KEVIN P. | 1982 |
| HURLEY, MATTHEW T. | 2005 |
| HURST, SCOTT W | 1989 |
| HURT, KENNETH | 1974 |
| HURT, THOMAS LYNN | 1974 |
| HUSHION, MICHAEL J. | 2005 |
| HUSTON, GREGG C. SR. | 1982 |
| HUTCHINSON, WILLIAM M | 1936 |
| HWU, KATHERINE | 1982 |

| | |
| --- | --- |
| ICE, HERBERT ARCHIE | 1949 |
| IFFLAND, DON C. | 1948 |
| IN, SUNG-JUNG SHANTI | 1978 |
| IRONS, WILLIAM COFFMAN | 1950 |
| ISNER, WILLIAM GLENN | 1959 |

| | |
| --- | --- |
| JACKSON, ERICA SIMS | 2002 |
| JACKSON, JEFFREY BURKE | 19 |
| JACKSON, THEODORE ARDEN | 1976 |
| JACOBY, WILLIAM RICHARD | 1952 |
| JACQUEZ, PATRICIA M. | 1989 |
| JAFARI, BARDIA | 1984 |
| JAFFE, CHARLES | 1988 |
| JAFFE, MYRON PAUL | 1944 |
| JAMES, VIRGIL EUGENE | 1950 |
| JARRELL, MICHAEL SCOTT | 1970 |
| JARRETT, EUGENE LAWRENCE | 1962 |
| JAYNES, EDGAR N. | 1966 |
| JEFFRIES, ALFRED T. III | 1968 |
| JENNI, CLYDE B. | 1928 |
| JERNIGAN, HOWARD M. JR. | 1964 |
| JESSEN, BRIAN P. | 1980 |
| JIMISON, CLARIO N. | 1944 |
| JOHNKOSKI, VINCENT H. | 1954 |
| JOHNSON, BEN S. JR. | 1939 |
| JOHNSON, HARRY E. JR. | 1962 |
| JOHNSON, SAMUEL K. | 1960 |
| JOHNSTON, HAROLD M | 1950 |
| JOHNSTON, TRACY L. | 19 |
| JONES, DAVID H. | 1927 |
| JONES, EVAN A. | 1981 |
| JONES, FRANK R. | 1954 |
| JONES, JOHN PAUL | 1924 |
| JONES, OWEN L. | 1959 |
| JONES, PAUL R. | 1949 |
| JONES, ROSS G. | 1937 |
| JONES, SEABORN B. IV | 1978 |
| JOSEPH, ELLEN L. | 1970 |
| JULIANO, PETER C. | 1963 |
| JUSTICE, JIMMIE L. | 1957 |

| | |
| --- | --- |
| KABISATPATHY, ASHOK K. | 1983 |
| KALALAU, ADAM | 2005 |
| KANICK, STEPHEN W. | 1970 |
| KANNER, BERNARD | 1949 |
| KAPALKO, ERWIN J. | 1955 |
| KAPNICKY, JAMES A. | 1947 |
| KARTH, MARSHALL G. | 1973 |
| KENAMOND, ROBERT C. | 1989 |
| KESLING, BRIAN D. | 2002 |
| KINASLEY, ALLAN | 1939 |
| KINCAID, EUGENE | 1941 |
| KIRCHENER, DARRELL G. | 1976 |
| KNOOP, JAYNE A. | 1982 |
| KOHLER, RICHARD | 1949 |
| KORAL, MARVIN | 1951 |
| KOVAL, ANDREW J. | 1982 |
| KRIEGER, EDWARD MYERS | 1929 |
| KRUGER, MICHAEL P. | 1977 |
| KURTZ, JERRY HESS | 1966 |
| KUTZ, HARRY C. | 1933 |
| KYSLINGER, RUTH ANN | 1983 |

| | |
| --- | --- |
| LACONA, JOSEPH | 1953 |
| LAMB, CARL | 1938 |
| LAMBERT, MERLAN MEREDITH | 1948 |
| LAMEY, STEVEN CHARLES | 1971 |
| LANCE, EDWARD D. | 1979 |
| LANDES, JUNIOR HAMILTON | 1963 |
| LARRISON, MILLARD SAMUEL | 1926 |
| LARRY, JOHN ROBERT | 1960 |
| LAW, DAVID A. | 1984 |
| LAWRENCE, BERT GRAY | 1924 |
| LAWSON, RANDY JOE | 1972 |
| LAZARUS, CONSTANCE R. | 1978 |
| LAZENBY, GEORGE C. | 1931 |
| LAZZELL, CHAS L. | 1926 |
| LEADBETTER, ROBERT AMON | 1978 |
| LEBOW, MAX FRANKLIN | 1974 |
| LEE, CHARLES DAVID | 1963 |
| LEEPER, CHARLES GEORGE | 1967 |
| LEET, CHARLES CADE | 1928 |
| LEFEVRE, MEDARD L. | 1979 |
| LEIGHTY, HAROLD DAVID | 1950 |
| LEMASTERS, JERRY RAY | 1962 |
| LEMLEY, HEATH L. | 1989 |
| LEMLEY, SAMUEL NEWTON | 1937 |
| LEMONS, THOMAS RICHARD | 1957 |
| LEONARD, REID H. | 1941 |
| LEVY, ANDREW | 1977 |
| LEWIS, CRIS L. | 1996 |
| LEWIS, TED TRIPLETT | 1964 |
| LEWIS, WALTER RICHARD | 1953 |
| LI, TZU-CHIENG | 1964 |
| LICKLIDER, GRANDISON | 1936 |
| LIDEN, THOMAS MICHAEL | 1961 |
| LILLY, DONALD RAY | 1972 |
| LILLY, FRANK EUGENE | 1950 |
| LILLY, JOHN P. | 1982 |
| LILLY, LARRY JOE | 1963 |
| LILLY, VIRGIL GREENE | 1928 |
| LIN, FRANCIS CHIEN-MING | 1953 |
| LIN, RUEY-YUAN | 1959 |
| LINDLEY, MELODY SUE T. | 1976 |
| LINDLEY, WILLIAM A. | 1976 |
| LIPPITT, STEVEN BRIAN | 1979 |
| LIU, SHEAN-LIN | 1956 |
| LLOYD, ROGER VAUGHAN | 1959 |
| LOGAN, JOHN FREDERICK | 1958 |
| LONG, LESTER CARL | 1958 |
| LOONEY, RALPH WILLIAM | 1952 |
| LORENTZ, WILLIAM B | 1957 |
| LOTSPEICH, FREDERICK J. | 1947 |
| LUBIC, STEPHEN PETER | 1971 |
| LUCAS, ROBERT ARMISTEAD | 1940 |
| LUCIANO, CARL S. | 1973 |
| LYNCH, CHARLES SCOTT | 1929 |

| | |
| --- | --- |
| MAA, PETER SHENG-SHYONG | 1970 |
| MABRG, MARK W. | 1991 |
| MACDONALD, JAMES R. | 1946 |
| MACE, ZACHARY D. | 2005 |
| MACKEY, BETH ANN | 1988 |
| MADHIRI, NICHOLAS | 2002 |
| MAGEE, TODD | 1989 |
| MAGRIOTIS, PLATO A. | 1988 |
| MAHAFFEY, ROBERT L. | 1970 |
| MAHL, TIMOTHY A. | 1988 |
| MALONE, JAMES CORNELIUS | 1940 |
| MALOY, JAMES WALTER | 1968 |
| MANN, CHARLES HAYES | 1961 |
| MAPLE, GERALD RONDALL | 1952 |
| MAPLE, STEVEN R. | 1982 |
| MARCINEK, JOSEPH ANDREW | 1963 |
| MARICONDI, CHRIS S. | 1963 |
| MARKWOOD, WILLIAM HENRY | 1931 |
| MARTIN, FRED H | 1932 |
| MARUISH, MICHAEL F. | 1971 |
| MATVIYA, THOMAS MATTHEW | 1980 |
| MAUST, PAUL E. | 1941 |
| MAXWELL, LEEMAN PHILLIPS | 1971 |
| MAXWELL, MAURICE HOPKINS | 1967 |
| MAY, HILLMAN H. | 1973 |
| MAZZA, MARGARET H. | 1973 |
| MAZZOCCHI, LEO FRANK. | 1954 |
| MCCARTHY, WILLIAM J. | 1969 |
| MCCAULEY, CHRIS STEPHEN | 1985 |
| MCCAULEY, REBECCA | 2005 |
| MCCLELLAND, RALPH ETHAN | 1946 |
| MCCLUNG, HOLDEN | 1935 |
| MCCONNELL, WESLEY WAYNE | 1978 |
| MCCORMACK, LAWRENCE M. | 1958 |
| MCCORMICK, JOHN HAROLD | 1946 |
| MCCUE, WM PRICE | 1930 |
| MCDANIEL, DAVID HENRY | 1973 |
| MCDIVITT, JAMES RICHARD | 1964 |
| MCELROY, WILLIAM DALE | 1925 |
| MCFARLAND, JOHN WILLIAM | 1939 |
| MCGEE, JOHN CLARENCE | 1953 |
| MCGINNIS, NANCY J. | 1970 |
| MCGRAW, HUGO RICHARD | 1938 |
| MCKAY, OWEN EDWARD | 1958 |
| MCKEE, ARGYLE DEMPSEY | 1949 |
| MCKOWN, GARY LEONARD | 1959 |
| MCMUNN, JERRY AUSTIN | 1968 |
| MCNEMAR, CHARLES WAYNE | 1982 |
| MCQUADE, MARY SUSAN | 1976 |
| MCQUEEN, DAVID HUGH | 1927 |
| MEHALL, JOSEPH ROBERT | 1963 |
| MEKALA, SHEKAR | 2006 |
| MERRICKS, JAMES WESLEY | 1929 |
| MESAROS, ANDREW J. | 1977 |
| MESZAROS, JEAN MARIE | 1989 |
| MILAM, FORD MORRISON | 1939 |
| MILAM, JOHN THOMAS | 1939 |
| MILAM, JOSEPH EDWIN | 1947 |
| MILEY, MARY ELLEN | 1984 |
| MILLAR, JOHN M. | 1978 |
| MILLER, DAVID WALTER | 1959 |
| MILLER, EUGENE NEIL | 1956 |
| MILLER, JAMES LEE | 1971 |
| MILLER, JAMES SIMMS | 1945 |
| MILLER, LARKEY JANE | 1972 |
| MILLER, LAURA | 2005 |
| MILLER, RAY E. | 1980 |
| MILLER, RUSSELL ALAN | 1984 |
| MILLER, TEDDY RAY | 1952 |
| MILLER, WEBSTER EARL | 1947 |
| MINIGH, HOWARD L. | 1971 |
| MINTZ, ERIC ALLEN | 1982 |
| MITCHELL, JAMES EMMETT | 1960 |
| MOLNAR, LANCE R. | 1991 |
| MONACK, A.U. | 1925 |
| MONROE, JAMES | 1928 |
| MONTAGNA, BETTY A. | 1971 |
| MONTELEONE, SHELLY | 1991 |
| MOODY, HARVEY WAYNE | 1969 |
| MOORE, BRUCE EDWARD | 1961 |
| MOORE, JOHN MARK | 1977 |
| MOORE, LESLIE DAVID | 1952 |
| MORAN, DON E. | 1930 |
| MOREDOCK, KEITH H. | 1959 |
| MORGAN, RONALD W. | 1935 |
| MORRIS, LAWRENCE DALE | 1958 |
| MORRISON, RICHARD HARVEY | 1958 |
| MORTENSEN, MATTHEW S. | 2003 |
| MOYER, ERNEST S. | 1969 |
| MULLINS, ELIZABETH | 1979 |
| MURRAY, PETER M. | 1980 |
| MUSOROVE, WILLIAM DONALD | 1930 |
| MUTH, CHESTER WILLIAM | 1951 |
| MUZZIO, DANIEL J. | 1979 |
| MYERS, R. THOMAS | 1941 |
| MYERS, REED FOLK | 1924 |
| MYERS, ROBERT FISCHER | 1964 |

| | |
| --- | --- |
| NADEAU, RICHARD GEORGE | 1959 |
| NAGUBANDI, SREERAMULU | 1975 |
| NALLY, JOHN H. | 1971 |
| NAMAY, ELLIOT MASES | 1942 |
| NARICK, CHRISTINA M. | 1982 |
| NAYLOR, ROBERT WILLIAM | 1968 |
| NEFF, JOSEPH ALBERT | 1949 |
| NELSON, RALPH DANIEL | 1972 |
| NEPTUNE, MARILYN | 1971 |
| NERI, PETER ANTHONY | 1963 |
| NESBITT, FRED LEE | 1978 |
| NESTOR, JOHN WESLEY | 1926 |
| NEWBROUGH, ROBERT S. | 1984 |
| NEWTON, RICHARD | 1929 |
| NICHOLS, DUANE GUY | 1958 |
| NICHOLS, LANDON REECE | 1951 |
| NICHOLS, OTIS ULYSSES | 1939 |
| NICHOLSON, GARY A. | 1976 |
| NIEHAUS, EDWARD JOSEPH | 1931 |
| NULL, REXFORD LEE | 1961 |
| NUTTER, WILLIAM E. | 1957 |
| NUZUM, JOHN HOMER HOLT | 1939 |

| | |
| --- | --- |
| OAKLEY, DONALD BAUER | 1939 |
| O'BRIEN, WILLIAM SMITHE | 1970 |
| ODENS, HERMAN H. | 1996 |
| O'DONNELL, JOHN J. | 1978 |
| OLIVER, ROSS SAMUEL | 1978 |
| O'NEAL, JAMES FRANKLIN | 1982 |
| ONESTINGHEL, JOHN V. | 1984 |
| ORNDORFF, HARRY RICHARD | 1956 |
| OSBOURN, JOSHUA | 2005 |
| OVERFIELD, CLARENCE V. | 1962 |
| OWENS, WALTER H. | 1989 |
| OZENICH, STEPHEN DOUGLAS | 1963 |

| | |
| --- | --- |
| PACOFSKY, EDWARD ANTHONY | 1956 |
| PADGETT, LARRY RANDELL | 1970 |
| PALMA, ROSEMARY | 1984 |
| PANGER, MICHAEL RAYMOND | 1984 |
| PANSON, STEPHEN GEORGE | 1948 |
| PAPSIN, GEORGE A. | 1980 |
| PARKER, ROBERT CHRISTIAN | 1965 |
| PARKER, THOMAS CLAYTON | 1958 |
| PARSONS, HAROLD ROBERT | 1964 |
| PASSWATERS, JUDITH ANN | 1970 |
| PATEL, RAJENDRA I. | 1976 |
| PATRICK, TIMOTHY BENSON | 1965 |
| PATTON, JESSE CARL | 1965 |
| PATTON, LARRY KENT | 1965 |
| PAWLAK, REBECCA JULIA | 1976 |
| PEDROZA, GREGORIO A. | 1965 |
| PELLACK, MARGARET ANN | 1976 |
| PENCE, HARRY EDMOND | 1959 |
| PENG, BO | 1988 |
| PERSINGER, HARRY EVAN | 1941 |
| PETERSEN, JEFFREY L. | 1977 |
| PHELPS, JOHN WILLIAM | 1938 |
| PHILLIPPI, MARK A. | 1996 |
| PHILLIPS, BARRY ALLEN | 1970 |
| PHILLIPS, HAROLD OLNEY | 1951 |
| PHILLIPS, JOHN FRANCES | 1960 |
| PICKENS, JOHN DANIEL | 1927 |
| PICKLE, DANIEL EDWARD | 1981 |
| PIEGOLS, ADAM M. | 2005 |
| PIERPONT, CORTLANDT G | 1972 |
| PIFER, TAMMY J. | 1983 |
| PIGGOTT, HAROLD WILLIAM | 1940 |
| PIPO, MICHAEL J. | 1982 |
| PLANTS, KENNETH DELL | 1949 |
| PLESA, JOHN | 1939 |
| PLOVANICH, CHARLES J | 1938 |
| PLOW, EDWARD F. | 1970 |
| PLUMLEY, ANNA E. | 2005 |
| POLING, EDGAR LEE | 1949 |
| POMEROY, STEPHANIE | 2005 |
| PONEK, BENJAMIN | 1948 |
| PONTON, DENNIS K. | 1970 |
| POPE, JOHN MONTFORT | 1979 |
| POPOVICH, GREGORY LEE | 1979 |
| POPOVICH, KEITH J. | 1976 |
| POPOVICH, PETER | 1947 |
| POSKE, ROBERT MARTIN | 1943 |
| POST, RICHARD FREDERICK | 1955 |
| POTTER, CHARLES JACKSON | 1931 |
| POWELL, LARRY MATTHEW | 2002 |
| PRATT, HAROLD CONRAD | 1938 |
| PRAY, HENRY AUGUSTUS H. | 1927 |
| PRICE, HARRY DONALD | 1963 |
| PRICE, WILLIAM CODY | 1949 |
| PRICE, WILLIAM HOMER | 1943 |
| PROUDFOOT, CHARLES NOEL | 1950 |
| PSATHAS, JOHN G | 1949 |
| PURPURA, JOSEPH M. | 1980 |
| PURSGLOVE, LAWRENCE A | 1951 |
| PUTLAND, KENNETH W. | 1978 |
| PYLE, ROBERT EDGAR | 1949 |
| PYLES, CARL RAY | 1968 |
| PYLES, LEE ALLAN | 1978 |

| | |
| --- | --- |
| QUARANTILLO, EDWARD PAUL | 1983 |

| | |
| --- | --- |
| RAFFERTY, MICHAEL A. | 1933 |
| RAVENSCROFT, MELISSA | 1991 |
| RAYMOND, DOMINIC JOHN | 1979 |
| RAZUNGUZWA, TRUST | 2003 |
| RECKLEY, JOHN STEVEN | 1982 |
| REED, CLYDE EUGENE | 1950 |
| REED, HENRY ELTON | 1941 |
| REED, LAURENCE GUY | 1935 |
| REED, RUSSELL A. | 1965 |
| REICHENBECHER, EUGENE F. | 1960 |
| REICHENBECHER, VERNON E. | 1968 |
| RENALDO, GARY JOSEPH | 1978 |
| REXROAD, RALPH EDWIN | 1949 |
| REXRODE, LENORA JANE | 1970 |
| REXRODE, LUTHER EMERSON | 1947 |
| REYNOLDS, ORLANDO SHAY | 1928 |
| RHINE, JOSEPH BANKS | 1925 |
| RICHARDSON, JACK EUGENE. | 1954 |
| RIDER, DANIEL M. | 1962 |
| RIDGWAY, DONALD HAROLD | 1967 |
| RIECK, JAMES NELSON | 1968 |
| RIFFEE, CHARLES AMOS | 1950 |
| RIMMER, MANUEL TYRIS | 1947 |
| ROBBINS, JAMES C. | 1966 |
| ROBBINS, OLA | 1924 |
| ROBERTS, GEORGE L. | 1947 |
| ROBERTS, ROBERT ABRAM | 1947 |
| ROBERTSON, JACK SUTTON | 1960 |
| ROBERTSON-HONECKER, JENNIFER | 2003 |
| ROBESON, BONNIE LOY | 1974 |
| ROBINSON, JAMES WILLIAM | 1978 |
| ROBINSON, JOHN LYNN | 1970 |
| ROBRECHT, KRISTA A. | 2005 |
| ROCKENSTEIN, RICHARD C. | 1962 |
| ROE, DONALD W. | 1959 |
| ROGERS, CROSBY UNDERWOOD | 1938 |
| ROGERS, EUGENE F | 1937 |
| ROGERS, JERRY DALE | 1976 |
| ROGERS, THOMAS PAUL | 1954 |
| ROHRBOUGH, WALLACE GLENN | 1947 |
| ROLLINS, CECIL GLENN | 1927 |
| ROLLINS, JENNINGS F. | 1930 |
| ROLLINS, ORVILLE WOODROW | 1949 |
| ROMAN, DEMITRY GRYPA | 1973 |
| ROMANOSKY, ROBERT R | 1973 |
| ROSE, AARON | 1939 |
| ROSENCRANCE, JAMES G. | 1983 |
| ROSS, JAMES ANTHONY | 1967 |
| ROSS, PATRICIA ANNE | 1972 |
| ROSSO, PAUL DAVID | 1967 |
| ROSTHAUSER, JAMES W. | 1977 |
| ROTH, JENNIFER ANN | 1989 |
| ROY, JOHN W. | 1966 |
| ROY, THOMAS WILLIAM | 1972 |
| RYAN, RALPH W. | 1933 |

| | |
| --- | --- |
| SACHER, J. VERNON | 1929 |
| SAGER, LINDA ELLEN | 1982 |
| SAKSA, DEANNA | 1983 |
| SALGADO, PETER GORDON | 1950 |
| SALLAZ, JAMES R. | 1970 |
| SALMON, RICHARD FRANCIS | 1977 |
| SAMPLE, PAUL EDWARD | 1954 |
| SANDRIDGE, ROBERT LEE | 1958 |
| SANTYMIRE, MORTON | 1946 |
| SAPORETTI, JOSEPH A. | 1973 |
| SAUNDERS, JAMES ALLISON | 1950 |
| SCHAFFNER, ROBERT M | 1938 |
| SCHALLER, FRANK WILLARD | 1938 |
| SCHAMBRA, WILLIAM PHILIP | 1928 |
| SCHAUM, JAMES HOWARD | 1967 |
| SCHESSLER, MATTHEW | 2005 |
| SCHMID, WALTER EUGEN | 1951 |
| SCHRAF, MARK WILLIAM | 1988 |
| SCHUBERT, KAREL RALPH | 1970 |
| SCHULER, HAROLD J. | 1967 |
| SCHWER, STEPHANIE A. | 1991 |
| SCOTT, ALBERT B. | 1924 |
| SCOTT, MARY ELIZABET | 1988 |
| SCOTT, MARY ELIZABETH | 1988 |
| SEARS, TIMOTHY SCOTT | 1984 |
| SECKEL, JAMES ALLAN | 1973 |
| SEIGEL, HERBERT | 1952 |
| SELBE, PAUL B. | 1924 |
| SERAFIN, JULIANA GRACE | 1980 |
| SETLIFF, HENRY LEE | 1978 |
| SHANMUGAM, SHAN MANGADU | 1983 |
| SHANNON, O.W. | 1938 |
| SHARP, JOHN C. | 1963 |
| SHARPS, ROBERT EDWARD | 1942 |
| SHAW, DENNIS L. | 1975 |
| SHEARER, ROBERT EDWARD | 1940 |
| SHEARS, LARRY L. | 1985 |
| SHELTON, ANDREW FERMOIN | 1956 |
| SHIRLEY, RAY LOUIS | 1938 |
| SHORE JOHN JAMES | 1954 |
| SHORT, SYDNEY GLEN | 1979 |
| SHORT, YANCY SCOTT | 1985 |
| SHOWALTER, GWENDOLYN S. | 1973 |
| SHRINER, LELAND CLARENCE | 1924 |
| SIEDSCHLAY, KARL GLENN | 1951 |
| SIMMONS, CAROL LYNN | 1982 |
| SIMMONS, GARY WAYNE | 1959 |
| SIMMONS, ROBERT BRENT | 1963 |
| SIMMS, JOHN ALDERSON | 1932 |
| SIMMS, ROSS PATRICK | 1965 |
| SIMPSON, MARGARET L. | 1971 |
| SIMPSON, WILLIAM ROY | 1952 |
| SINGH, KULTAR | 1984 |
| SINGH, SUKHWINDAR PAL | 1984 |
| SISK, HILLIS | 1941 |
| SISLER, ZACHARY S. | 2005 |
| SKAFF, KIMBERLY LYNN | 1977 |
| SKAFF, PAUL ALEXANDER | 1980 |
| SKEETERS, M.J. | 1939 |
| SLATER, CARL DAVID | 1953 |
| SMITH, BRISBEN FLESHER | 1957 |
| SMITH, DONALD | 1956 |
| SMITH, GARMOND STANLEY | 1958 |
| SMITH, JACK HAROLD | 1955 |
| SMITH, JAMES BENNINGTON | 1937 |
| SMITH, STANLEY ARTHUR | 1949 |
| SMITH, THEODORE RODERICK | 1951 |
| SMITH, THOMAS BARRATT | 1951 |
| SMITH, WILLIAM DAVID | 1965 |
| SMITH, WILLIAM HENRY | 1947 |
| SNYDER, DONALD HENRY | 1953 |
| SNYDER, FRANCES E. | 1977 |
| SONNEBORN, ARTHUR AARON | 1978 |
| SOULSBY, DAVID LEON | 1977 |
| SPANGLER, JOHN ALLEN | 1938 |
| SPANGLER, LYNWELL KELSEY | 1935 |
| SPANGLER, ROBERT CLIFTON | 1937 |
| SPARKS, ROBERT LEON | 1965 |
| SPEARS, CHRISTOPHER C | 2005 |
| SPECHT, RANDOLPH C. | 1924 |
| SPIKER, ROBERT CLAUDE | 1941 |
| SPONAUGLE, JIM HARPER | 1977 |
| SPONAUGLE, MARVIN | 1977 |
| STAIB, RONALD WILLIAM | 1968 |
| STAMBOUGH, JEFFERY LYNN | 1976 |
| STANSBURY, HARRY | 1939 |
| STANTON, CLYDE T. | 1978 |
| STATLER, KRISTEN | 2005 |
| STAUBS, HARRY LEO | 1951 |
| STEELE, DOUGLAS W. | 1963 |
| STEENBERGEN, CHARLES | 1940 |
| STELZIG, DAVID A. | 1970 |
| STENGER, WM JAMES | 1952 |
| STEPHEN, JOHN PAUL | 1970 |
| STERN, MONT PHILLIP | 1978 |
| STEVENS, PHILLIP RUST | 1976 |
| STEWART, EDWARD EUGENE | 1950 |
| STEWART, EDWARD EUGENE | 1982 |
| STEWART, ROBERT FRANCIS | 1953 |
| STEWART, ROBERT GRIM | 1962 |
| STINE, IRA ALLEN | 1940 |
| STORMER, BENJAMIN PETER | 1969 |
| STRADER, CALVIN LLOYD | 1957 |
| STROHL, JOHN H. | 1965 |
| STROUP, WILLIAM HIRAM | 1963 |
| STUMP, EUGENE CURTIS | 1951 |
| SUIDER, DANIEL A. | 1989 |
| SULLIVAN, JOHN LEE | 1939 |
| SUMMERS, ANDREW | 1970 |
| SUMMERS, JERRY CURTIS | 1964 |
| SUMMERS, ROBERT FRANCIS | 1969 |
| SUNG, WEI LIANG | 1951 |
| SURYAN, MAHENDRA M. | 1982 |
| SUTTON, JOSEPH BARTLETT | 1931 |
| SUTTON, MACK | 1934 |
| SWAN, WILLIAM ORR | 1925 |
| SWENTZEL NEAL L. | 1928 |
| SWENTZEL, JOHN PAUL | 1928 |
| SWIGER, ELIZABETH D | 1972 |
| SWING, LEONARD C. | 1929 |
| SWISHER, JOE ARNET | 1959 |

| | |
| --- | --- |
| TAN, ZHIXIN JESSICA | 1996 |
| TANDY, THOMAS KING | 1961 |
| TATAR, JENNIFER | 2005 |
| TATTERSON BENJAMIN F. | 1939 |
| TENNANT, REX BURL | 1971 |
| TETER, FAE CLEDA | 1973 |
| THACKER, WILLARD DALE | 1949 |
| THOMA, DEBRA LEE | 1978 |
| THOMAS, BEAUMONT | 1931 |
| THOMAS, DAVID WAYNE | 1974 |
| THOMAS, E. IVAN | 1932 |
| THOMAS, MICHAEL CRAIG | 2002 |
| THOMAS, RONALD EVAN | 1967 |
| THOMPSON, GREGORY ALLEN | 1982 |
| THOMPSON, WILLIAM DAVID | 1963 |
| THOMPSON, WILLIAM MASON | 1940 |
| TIMKO, JOHN R. | 1972 |
| TONGESAYI, TSANANGURAYI | 2003 |
| TONKOVICH, MONICA J. | 1972 |
| TRASK, TERRY O | 1978 |
| TRAYNELIS, CHRISTIAN L. | 1979 |
| TRAYNELIS, STEPHEN | 1984 |
| TRAYNELIS, VINCENT C. | 1978 |
| TROTTA, MICHAEL R. | 1989 |
| TRUEX, CLEM RICHARD | 1974 |
| TSENG, CHIEN KUEI | 1964 |
| TURNER, JAMES LAWRENCE | 1949 |
| TYNNER, EDWARD H. | 1939 |

| | |
| --- | --- |
| UPDYKE, LIONEL JOE | 1963 |
| URBANIK, ARTHUR RONALD | 1964 |

| | |
| --- | --- |
| VACCARO, ANTHONY J. | 1978 |
| VAN KIRK, ROBERT W | 1927 |
| VAN LANDINGHAM, AUDREY | 1930 |
| VAN SCOY, RICHARD M. | 1960 |
| VANCAMP, RAYMOND M. | 1950 |
| VAUGHAN, RICHARD ALAN | 1975 |
| VELTRI, FRANK SAMUEL | 1977 |
| VENKAT, JYOTHSNA | 1984 |
| VIA, FRANCIS ANTHONY | 1964 |
| VIGLIANCO, HENRY C. | 1954 |
| VIGNEAULT, MICHELE MAY | 1973 |
| VILLINGER, FREDERIC W. | 1960 |
| VINCENZINI, ALBERT J. | 1975 |
| VINES, STERLING N. | 1938 |
| VISTA, JEFF | 1986 |
| VLADIMERY, PETER | 1971 |
| VOIGT, ROBERT LOUIS | 1939 |
| VON BERG, ROBERT LEE | 1937 |

| | |
| --- | --- |
| WADDELL, EDWARD LEE | 1940 |
| WAGNER, JODY | 1977 |
| WAGONER, ROBERT DANIEL | 1953 |
| WALDECK, JAMES MICHAEL | 1978 |
| WALKER, WALTER HAMILTON | 1930 |
| WALSH, CYNTHIA L. | 1986 |
| WALSH, ROBERT GRIMM | 1947 |
| WALTERMINE, DEBBIE MAE | 1976 |
| WAMSLEY, HAROLD KEITH | 1956 |
| WANG, SHIH-CHUNG | 1971 |
| WARD, THOMAS GRAY | 1935 |
| WARDY, DAHER T. | 1976 |
| WASS, MARK DONAVAN | 1978 |
| WATSON, GLENN SANFORD | 1929 |
| WATZ, ROBERT JOHN | 1952 |
| WAY, GEORGE HENRY | 1926 |
| WEAKLEY, CHARLES EDWARD | 1924 |
| WEBB, ROBERT KENT | 1962 |
| WEBER, CHARLES A. | 1981 |
| WEBER, WILLIAM D. | 1976 |
| WEISER, JEFFREY W. | 1986 |
| WEISER, MARK R. | 1978 |
| WELCH, WILLIAM ARTHUR | 1927 |
| WELKO, JEFFREY R. | 1979 |
| WEN, CHIN YUNG | 1953 |
| WESER, DON B. | 1965 |
| WESTFALL, EDWARD R. | 1970 |
| WESTFALL, ROGER KYLE | 1972 |
| WEYER, DAVID A. | 1971 |
| WHEELER, CHARLES MERVYN | 1947 |
| WHEELER, FRANK HAYES | 1962 |
| WHIPP, ROY HUBERT | 1969 |
| WHITE, DEE ANN | 1972 |
| WHITE, FRANK LUTHER | 1924 |
| WHITE, JOE JACKSON | 1978 |
| WHITE, MARK DOUGLAS | 1977 |
| WHITE, RAYMOND EUGENE | 1936 |
| WHITE, STANLEY MARTIN | 1949 |
| WHITE, WAYNE GILMER | 1933 |
| WHITED, BRANT | 2005 |
| WHITELEY, JAMES C. | 1968 |
| WHITEMAN, CHARLES R. | 1980 |
| WIEGAND, DEAN ALBERT | 1969 |
| WIGAL, FREDERICK | 1939 |
| WILEY, THOMAS STANLEY | 1955 |
| WILHELM, DALE L. | 1956 |
| WILKINS, RAY | 1962 |
| WILKINSON, PAUL RAY | 1950 |
| WILLIAMS, DANIEL W. | 1978 |
| WILSON, DAVID M. | 1976 |
| WILSON, JAMES EDWARD | 1929 |
| WILSON, JOHN SHERIDAN | 1965 |
| WILSON, MARVIN C. | 1964 |
| WILSON, ROBERT S. | 1940 |
| WILSON, THOMAS E. | 1939 |
| WILSON, WILLIAM KESTER | 1935 |
| WINSTON, DAVID WELLS | 1988 |
| WINTER, CURTIS ANDREW | 1978 |
| WINTERS, DAVID LEE | 1972 |
| WINTERS, ELLEN RENEE | 1985 |
| WISOWATY, JAMES CHESTER | 1969 |
| WITHERS, JAMES GORDON | 1946 |
| WITHERS, JOHN SCOTT | 1943 |
| WOEBER, HOWARD HENRY | 1937 |
| WOJCIK, ALBERT FREDDIE | 1942 |
| WOLFE, DAVID FRANCIS | 1962 |
| WOLTZ, FRANK EARL | 1939 |
| WOOD, HENRY ELBERT | 1946 |
| WOODSWORTH, GEORGE H. | 1938 |
| WORK, PHIL STRATFORD | 1953 |
| WOTRING, RICHARD M. | 1930 |
| WOTRING, ROBERT DAVID | 1958 |
| WRIGHT, CARL LEONARD | 1952 |
| WRIGHT, DAVID OWEN | 1971 |
| WRIGHT, GARY LEE | 1960 |
| WUNG, CHI CHANG | 1986 |

| | |
| --- | --- |
| YANERO, SUSAN BETH | 1972 |
| YANG, HUA | 2005 |
| YANG, YONGHONG | 2002 |
| YEN, TEH-FU | 1952 |
| YOUNG, GUY BAYARD | 1934 |
| YOUNGBLOOD, GERI LYNN | 1984 |
| YU, HUNG AO | 1949 |

| | |
| --- | --- |
| ZACK, MITZI | 1976 |
| ZANOTTI, CHRIS ANTHONY | 1947 |
| ZAPPIN, JEFFREY LYNN | 1973 |
| ZEHR, PETER SAMUEL | 2002 |
| ZEIGLER, WENDY JO | 1976 |
| ZERVOS, NICK | 1986 |
| ZHOU, MAOQUAN | 2003 |
| ZIEMIZCKI, HENRY W. | 1981 |
| ZIMMERMAN, DONALD N. | 1967 |