West Virginia University in Vendée, France
WVU-V: Courses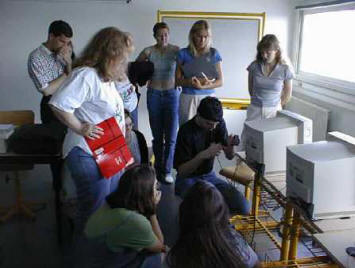 (Left: Fabrice Vendé demonstrates computer networking for our 1998 WVU-Vendéens)
Two academic courses, one in culture and one in communication, are integrated into the scheduled activities of WVU-V. These courses have gone through the regular process of accreditation from West Virginia University and together offer six hours credit at the advanced undergraduate level. Successful completion of at least two college French courses beyond the intermediate level, or permission of the instructors, are prerequisites to enrollment in this program. Graduate credit may also be available for students willing to pursue special projects at that level. See links to course descriptions and syllabi at the bottom of this page.
Generally classes meet formally three days per week from 9:00 to 13:00. Typically the formal class meetings focus on preparation or follow-up for excursions and field trips that are scheduled two days per week. A part of the classroom sessions will also be dedicated to the production of vodcasts and communication work with students registered in the Virtual Vendée course -- WVU-VV.
The excursions and field trips are an essential part of the academic program and have been carefully selected for the experiences they offer in the areas of culture and communication. Students are expected to participate actively in all these experiences and to take every opportunity to interact with guides, presenters, guests, and drivers. On early departures or later returns there may be moments set aside for rest or sleep during travel, but some routes have been selected for the sites and monuments along the road. Students should be attentive to notes from instructors, guides, or drivers concerning this vital element of excursions.
Whenever possible midday meals -- still the most important in France -- are built in to the field trips. These meals present an excellent opportunity to interact with guests, drivers, restaurant servers and fellow students about the cultural content of the day's activities. The midday meal is also a traditional time to set aside work and simply converse with one's "companions" -- a word that itself derives from the French for the person with whom one "shares bread."
Most weeks, three afternoons are open and may be used for leisure or for work on culture and communication assignments. Weekends are also left open for students who wish informally to explore Les Sables and surrounding parts of France either on their own or with friends. This time may also be used to develop one's relations with host families and others in the community of Les Sables.
It is critical that students make a concerted effort to adapt to life in the target culture and to take advantage of every opportunity to further their understanding of French values, customs, and patterns of life. Life with the host family and the culture and communication projects are among the most important elements of WVU-V! and they offer a unique means of understanding life in another country. See the syllabi below for more information:
French 470: Culture en direct.