West Virginia University in Vendée, France
Le Logis de la Chabotterie
A "logis" is a unique form of habitat that was developed in Vendée during the 1500's. Fulfilling the function of the traditional castle with the lord ruling and protecting the land and the peasants working the earth, the "logis" centered on an large open courtyard with the important buildings of the farm (plantation) surrounding. Created during the time of the religious wars between Catholics and Protestants, this arrangement allowed a good balance between the needs of productivity and security. During the early 1790's, as the region of Vendée rose up against the French Revolution, the logis again played an important strategic function, feeding the royalist armies and providing the shelter from the armies of the new republic.
La Chabotterie is perhaps best known as the place where the great Vendée general François de Charette was brought after his capture in a nearby wood in 1796. One of the last of a number of Vendéen leaders, Charette was housed briefly here to allow him to recover from his wounds. Then he was transported to Nantes, where he was interrogated and then sent before the firing squad.
Today La Chabotterie is renowned for both its historical and cultural significance. Schools from all over France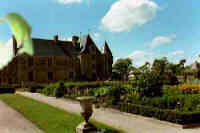 participate in its programs of exploration of the traditional ethnology, economy, and ecology of the region. WVU-V will include a day's session on the programs offered here. We will learn about the land, the food, the dress, the social structure, and the history that are all richly exemplified by the programs and facilities of La Chabotterie. The photos provide here glimpses of the gardens, inner court, and the profile of La Chabotterie. As in many important museums, photography is not permitted inside the logis, but a visit of the authentically furnished rooms is a true revelation of another way of life.

The inner court (7 Kb)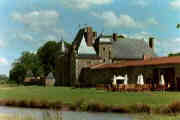 Outside the logis (10 Kb)


Vous êtes le visiteur numéro
aux pages de Michael Lastinger.