West Virginia University in Vendée, France
Related Web Sites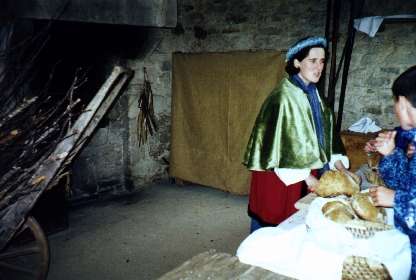 (Visitors sample the wares of a traditional baker at Le Puy du Fou)
The web sites below contain information that may be of interest to participants in WVU-V.

Bienvenue en Vendée: one of the best and richest sites on the Vendée region.
CONSEIL GENERAL de VENDEE, SOMMAIRE: the official site of the General Counsel of Vendée, very rich.
Les Sables d'Olonne: Le Pôle Touristique.
Les-Sables-d'Olonne: ask a question.
Les Sable d'Olonne: Official site of the Mayor's Office, under construction.
POITIERS, 2000 years young!
FUTUROSCOPE POITIERS: le Parc Européen de l'image
La Vendée et le SURF : Spots de VENDEE
Association des vendéens en Amérique du Nord (A.V.A.N)
Index des Villes et Villages de Vendée
Vendee Globe (Around the World, non-stop, all alone!)
MARAIS POITEVIN (save the frog and his home!)
Ville de Saint Jean de Monts - Vendée - France
Horaires des trains ligne Paris-Les Sables:
Eurostar Internet (The Trains of Belgium, Britain and France)