West Virginia University in Vendée, France



"La Vie de tous les jours..."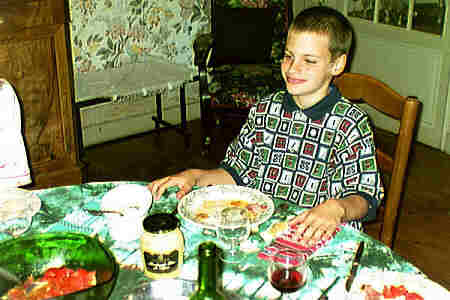 As you know, Amercian and French cultures are closely related and share many common behaviors and assumptions. There are, however, some aspects of French life that may surprise, frustrate, or charm the first-time American visitor. The key thing to keep in mind in such situations is that the French are very tolerant of what they call the "faux pas" (the mis-step), especially when the newcomer shows good humor, generosity, and a willingness to accept customs not immediately understandable.
Aware that sometimes it's the small things that count, a part of our discussions and activities during WVU-V will be devoted to exploring and understanding differences that, while relatively trivial, can sometimes produce some awkward situations or unintended reactions.
Perhaps the most important thing a "student" of culture should keep in mind is that our mission is not to alter the behavior of our hosts but rather to understand and to adapt to them. While in France, we are learners, not missionaries of the "American Way of Life" (whatever form it may take). Many customs in France may seem quite perplexing, but there is often a hidden logic that goes far to explain French behavior.
More of the hidden secrets below, but first an important general note. In a recent set of surveys be Dr. Pauline Nelson of Bethany College, French and American respondents answered overwhelmingly that FAMILY was the most important value for their own culture. Number two for Americans can be left aside. For an American student of French, it is vital to understand that FOOD is second most important cultural value for people in France. Very few things will help or hinder your integration into French culture more than your willingness to enjoy a meal in a communal or familial setting. The link to the National Public Broadcasting report below gives some insight into this from a very American perspective:
http://www.npr.org/ramfiles/me/20021001.me.12.ram (the RealAudio report)
NPR Morning Edition for October 1, 2002 (look for the report called "Dinner Party Problems.")
Now for a few other "secrets" of French culture. One of the hidden customs that is now disappearing even in France is the "gentleman" going through the door before the "lady." This occurs when going into a public place like a restaurant or café. The reason is obvious when you think about it. No man would let a woman enter first into such places without exposing himself first to the "dangers" that may lurk in an area accessible to just anyone. This is surely a tradition that dates from the days of the sword on the belt and the feather in the cap!
Most of this page will deal with questions more contemporary in nature.
Here are a few brief examples:

Did you know that you can't just walk in and out of a bank in France? The reason is that the doors are kept locked and are opened electronically both for entry and exit by a guard or clerk. Be sure not to break your nose by trying to rush in or out of one of these doors!
The same thing applies for most apartment buildings, where the traditional concierge (whose job was to watch over the order of the building and the well-being if its inhabitants) is being replaced by electronic security devices.
Perhaps even more mysterious to Americans are the customs surrounding the small shops and boutiques that are still very important to life in France. To understand the behavior here one must understand that by tradition, and often still in fact, a shop is located in or below the residence of the merchant. It is literally a part of his or her house. Now we all understand that you don't simply walk into and out of someone's house. The following behaviors therefore make perfect sense:

You always say hello upon entering a shop, bakery, or boutique. The basic formula is "Bonjour Monsieur", "Bonjour Madame", or "Bonjour Messieurs et Mesdames", depending on the people present. One often also hears the abbreviated expression "Messieurs-Dames", but some consider this formula less than fully polite.
Upon leaving, one is also expected to say "Merci, au revoir, Madame", etc. And be sure to use the title of address. Anything less is curt (from the French "court" for short).
Generally one waits to by served by the merchant. Only items obviously intended to be picked up by the customer should be touched directly. Remember, you don't freely handle objects in someone's home.
Neither do you enter a home without a purpose. The purpose to enter a shop is to buy a specific item, and unless the merchant does not stock the item you most often would not leave without making the purchase. This of course is not a hard rule, but it is a general expectation. It is one of the reasons that French law requires that any item exposed in a store window must have the price clearly visible -- customers thus may avoid an unpleasant surprise at the cash register. And by the way, that price must be exactly as labeled, no more, no less. Here's a point where a French person in the US is shocked at being asked to pay 6 to 8% sales tax on top of the price announced. (Taxes are already included in the French sticker and asking a higher price than that announced is considered fraudulent.)
At the register, by the way, there is often a small platter on or built into the counter. Exchanges of money in the intimate climate of the "home" is always a bit awkward. Placing your money on the platter and taking your change from there avoids your having to exchange money directly with your "host".
Of course inside the real home, practices can also be fairly ritualized, and they often reflect a very strong distinction between public and private space. One thing you will notice is that French homes are almost always surrounded by walls, whose function is to set out strict delineations between the public and the private spheres. The French are in fact perplexed by the American tendency to have open yards and gardens around their homes. Inside the house, space is also clearly delineated.

This delineation is reflected by the French preference for closed doors. It is generally a good idea to close doors in a French home, rather than leave them open, as Americans tend to do. In the summer months there is a practical reason that backs up the cultural inclination. When the weather is good -- and sometimes when it is bad -- the French love to air out the house by opening the windows, a habit that seems to contradict the rule on doors. A door left open could easily be caught in the breeze and slam violently shut, thus making an unpleasant noise for all those around.
Perhaps the most important door to keep closed, though, is that on the refrigerator. Some Americans might feel that when they're a guest in a home, they are free to serve themselves (sometimes relieving the hosts of such burdens). This practice should be avoided in a French home unless a very clear invitation to serve one's self has been extended.
This extends partially to the American practice of "snacking". While "snacks" are beginning to enter the French life style, many in France consider it impolite to eat alone or outside normal meal times or places (more on that in a moment).
The kitchen in general is a more private space than in American homes. In a more formal home a guest would generally not venture there unless specifically invited.
Another delineation of space is that which surrounds the functions of different rooms. The greatest surprise to Americans would be the areas designated for personal needs. The "bathroom" for the French is for bathing and nothing else. Other bodily functions may be fulfilled in "les toilettes" or "le petit coin", but never the twain shall meet. And the jokes are old on this one, but the "bidet" is a lavatory (for parts below the waist -- including the feet): it is not what an innocent American might mistake it for.
The bedroom is obviously for sleeping, but it too is not entered into lightly. Actually this is a question not of going in but of leaving the common area of the house. It is imperative before retiring that one wish "bonsoir" or "bonne nuit" to all the other inhabitants of the house individually. It is not enough to announce to one person that one is tired and then disappear.
The same in reverse applies in the morning. The guest should always greet all present individually. Depending on the family, that greeting may be simply verbal, but it is often accompanied by a handshake or even the famous "bise" (the real French kiss, which consists of a light peck or two on either cheek). The French regularly shake hands or give the bise upon the first encounter of the day.

These elements of physical contact mark another distinction between American and French conceptions of space. Americans tend to keep a very large space around themselves. The French may sometimes seem to invade that space. The caricature would have the American facing his interlocutor and in an effort to maintain his space simply backing slowly across the room.

On the other hand Americans can be seen by the French as having almost violent spasms that push them to invade even the small space that surrounds the French "person". Here the famous American "hug" is the best example. The French may accept a kiss on either cheek, but they don't like the sport of wrestling.

Quite obviously the most important room in the house is the dining room. A meal in France is not simply a moment dedicated to the nourishment of the body; it is indeed a time for social and even spiritual replenishment. It also takes place in the most hallowed of French spaces -- the dining room or "la salle à manger". If you know French, you know that the word "salle" refers to a room providing space to be shared with others. The French generally do not eat alone, nor to they eat in a bedroom, bathroom, or even a classroom!
What the French eat can be equally perplexing to Americans. While exceptions are infinite in both cultures, it seems often that Americans tend to define themselves by what they refuse to eat or drink. The French tend to take pride in the variety of foods that make up a fine meal. They use one of the most important terms in the language to describe this variety: «équilibre». You will surely notice that even the simplest of French repasts includes at least three "courses" and the more formal will run to seven or even ten -- each composed of a series of foods of differing nature, and each often accompanied by a different wine or other drink. By our standards, the French diet includes a variety of items -- both animal and vegetable -- that are not even available in the States.
Our own experience in the past has shown that among our students, the reaction to this situation can be classed in three categories: 1) delight, 2) indifference, 3) disgust. The categories are generally equally represented among American youth, but your success in understanding France can be greatly affected by the one into which you fall. If you are delighted by French cuisine, you are already one up in the eyes of your hosts. If you are indifferent, you can always manage with a certain facility. If you are "disgusted" -- the word literally means having "no taste" -- you will have more difficulty fully enjoying your experience "à table" -- as will your hosts, whether they be your family, your friends, or the servers and chefs in the restaurants where you dine (remember, when you enter a business, you also enter a "home". You will need to be aware, though, that your job in France is not to reform or to convert French eating habits to fit yours -- and of course this would apply to any other culture you seek to adapt to. As we noted earlier, the surest strategy involves good humor, generosity of spirit, and a willingness to sacrifice some of the "convenience" of being back home. The rewards of such a successful adaptation can be great, and they are certainly worth the effort on your part. The meal in France, whether in you host family or in our restaurants on the road, is among the most sacrosanct of our activities.
Needless to say, the behavior that surrounds the nearly holy ceremony of meal can at times differ from the practices we know in America. We have designed a few pages that will help illustrate some of these "subtleties".
Following are a series pages based on photos we took of our son Alexander when he was a very young man. He is demonstrating some acceptable and unacceptable practices around the dining table. Try to guess what he is doing right or wrong.
Follow this link the "A Table!" pages.
Vous êtes le visiteur numéro
aux pages de Michael Lastinger.