WVU in Vendée
Apply
First Photos

Travel with us through our on line Living Calendars:

WVU-V! 2013

WVU-V! 2011

WVU-V! 2010

WVU-V! 2009

WVU-V! 2008

WVU-V! 2007

WVU-V! 2006

WVU-V! 2005

WVU-V! 2004

WVU-V! 2003

WVU-V! 2001

WVU-V! 2000

WVU-V! 1999

WVU-V! 1998

-- Les Vendéens 2011
-- Les Vendéens 2010
-- Les Vendéens 2009
-- Les Vendéens 2008
-- Les Vendéens 2007
-- Les Vendéens 2006
-- Les Vendéens 2005
-- Les Vendéens 2004
-- Les Vendéens 2003
-- Les Vendéens 2001
-- Les Vendéens 2000
-- Les Vendéens 1999
-- Les Vendéens 1998
-Courses
-A Table! (Notes on French ways of life)
-Testimonials
-Related Links
Les Sables d'Olonne!
Mayor's Office
Madame Grandpierre
Excursions
Le CAIRN
La Chabotterie
Le Futuroscope
Le Puy du Fou
La Rochelle
Paris:
- Notre Dame
-Saint-Denis
To WVU Foreign Languages
To WVU's home page
West Virginia University in Vendée, France


WVU-V 2013!
- See All Our Living Calendars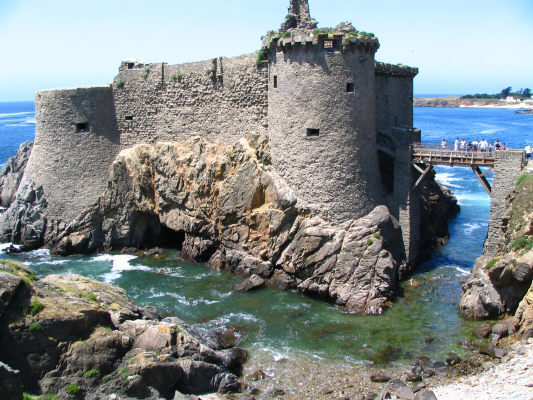 The Old Fort on the Isle of Yeu, June 28, 2004
WVU-V is a five-week summer study abroad program designed to give students of French culture and language an opportunity to improve their skills through a set of authentic, real-life experiences in one of France's most beautiful and historic regions, la Vendée. The trip also includes several days in Paris, numerous excursions in and around Vendée, as well as a two-day visit of the nearby Loire Valley. The program was originally conceived for students of French at West Virginia University, but we also welcome participants among students, teachers, and francophiles from a variety of backgrounds. The courses at the heart of WVU-V have been fully certified by WVU's Eberly College of Arts and Sciences and by the WVU Faculty Senate and offer six hours of university credit at the advanced undergraduate or basic graduate degree level. See Courses for syllabi and more information.
All program activities are designed to give the student an in-depth and authentic experience of French culture. The classes themselves are taught in French by regular faculty from West Virginia University, and all guides, guest speakers, host families interact with our students in French. Participants thus need a basic background in French language and culture to enjoy the maximum benefit from these real-life experiences. (For university students this background would generally involve good performance in at least one class beyond the intermediate level.)* The program includes activities that explore French ways of life not only in the present but also at several key stages from the past, including the neo-lithic stone age, the middle ages, the Renaissance, the Revolution, the nineteenth century, and of course the France of today. .
Follow WVU-V online!
Among of the many unique features of the WVU-Vendée program are the daily updates of these pages while the trip is under way. Using a digital camera and a laptop computer, Dr. M. Lastinger posts internet pages detailing activities and excursions as they occur. These pages have allowed friends and family back home to enjoy a virtual study abroad trip of their own. Our daily postings will be highlighted on the date at the top of each daily frame (eg. "
8 mardi") inside the larger frame is a rough description and links to other related sites. These postings were done on the run, so please forgive the rough nature of the pages.
See our Living Calendars from years past.
Here is a note from my first posting in 1998:
"Just a word to loved ones: we're doing fine and learning something really new every day. As a professor of French, it is a dream come true to see my students in the real French world and making such a positive impression everywhere they go."
----------------------------------