West Virginia University in Vendée, France
Paris, la ville des lumières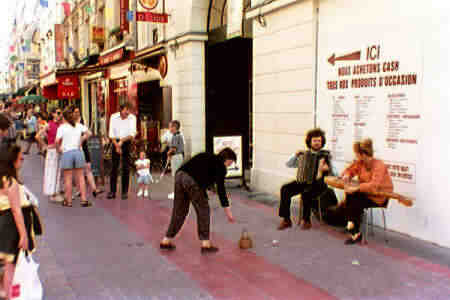 (A "rue piétonne" -- a street for pedestrians only -- where passersby tranquilly enjoy the shops, the cafés, and the music.)
WVU in Vendée will begin its visit to France in one of the most beautiful and historic cities of the world. Our orientation and preliminary visits will take place on June 3, 1998. We will be lodged in a two-star hotel near the heart of the city. Our visits will take place via the Metropolitan subway and bus system (one of the best in the world), thus giving us the direct feel of life as it is lived by Parisians. During the first two days, we will visit several sites as a group. On the third day students will be given the option to form smaller groups and to visit their own selection of Parisian sights. Our last stop in Paris will be the train station, where we will climb aboard the ultramodern TGV for our trip to Les Sables d'Olonne.
See the menu to the left for some sights that may be selected for our program. For more on Paris, see the English or French versions of "Les Pages de Paris."
Vous êtes le visiteur numéro
aux pages de Michael Lastinger.