West Virginia University in Vendée, France
She sells seashells ...
June 16, 1999
Today is a pretty typical class session day for WVU-V. We had our regular three-hour marathon this morning, filled with some exciting information, some trivial detail, and a bit of enthralling discussion of culture, language, and history.
Les Sables does not yet have a cybercafé or the internet in every home, so Kelly McKnight and a few others drop by the Lastinger's to check their email.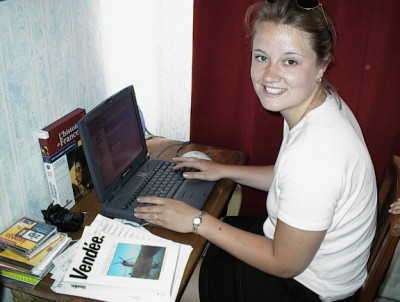 Carolyn Graeber and Brad Gunnell take advantage of a chance to visit the "Musée du Coquillage" or the Seashell Museum.
The collection is vast and colorful.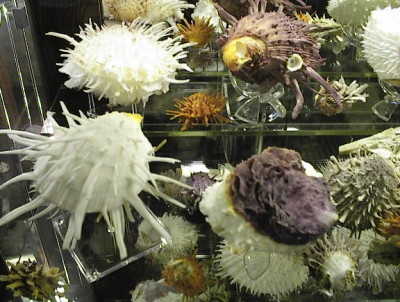 The other big outing this afternoon involves an assignment for class. All the students this week must take the local bus at least once. This involves picking a destination, reading a map, reading a schedule, and of course buying a ticket. A few of our Vendéens plan an excursion to the Géant of les Olonnes -- a major shopping surface similar to our K-Mart and which is located on the outskirts of town.
As you can see, it's a slow news day, here in Les Sables d'Olonne...
Stay tuned to WVU-V!
Go on to June 17, 1999
Return to the 1999 Calendar
Comments to mlasting@wvu.edu