West Virginia University in Vendée, France
Extra, extra!!!!
June 12, 1999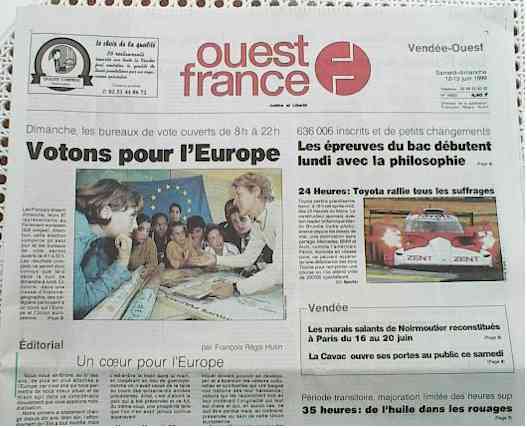 Today's headlines of Ouest France focus on the European elections that take place tomorrow, on the first sections of the final high school exams which begin the two-week marathon with the philosophy test on Monday, and on this afternoon's start of the 24 Hours of Le Mans, which takes place not too far up the Loire valley from here. In the Vendée section there is a piece on the project to build a working replica of the salt marshes of Noirmoutier that will actually produce authentic Atlantic sea salt at the foot of the Eiffel Tower!!!
All these major events have pushed the article on WVU-V to the inner pages, but as is so often the case, today that's where the real substance of the news is...
Life in Town

-----
Eleven American Students Set Their Clocks to Time in Les Sables

"Valérie Lastinger, French professor at West Virginia University, in the United States, was born in Les Sables d'Olonne. For the second year, she has been inspired to lead her students to discover the land of her origins. Accompanied by her husband, Mike, also a French professor, Valérie Lastinger has brought eleven students, aged 18 to 24, across the Atlantic. "We want them to see life in France close up," explains Valérie Lastinger. During their stay they will carry out a research projet. On the program are interviews with Sablais [inhabitants of Les Sables], which will allow them to establish a dialogue focused on a profession of their choosing. It should be noted that for them language will not be a barrier. They are all at an advanced level in their French studies. Lodged in host families, they follow a scholastic program three mornings per week, in a classroom set up in Les Atlantes. After the mountains of West Virginia, they will take courses until July 9 in the conference center overlooking the sea."

Article by Laurence MONARD, Ouest France.
Translation, Michael Lastinger.
Stay tuned to WVU-V!
Go on to June 15, 1999
Return to the 1999 Calendar
Comments to mlasting@wvu.edu