West Virginia University in Vendée, France
In the classroom by the sea...
June 7, 1999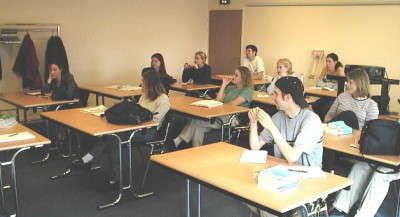 Today is our first "regular" class session in Les Sables. Our meeting is in the new conference center known as Les Atlantes, located on near the beach and the port in downtown Les Sables d'Olonne.
Our program focused on a report of the Vendéens' weekend with their new families and on different aspects of culture shock and culture "exhilaration" that are typical of these first days abroad. Upon their return to the States, most student will undergo a similar period of re-adjustment to American ways of life.
After a lively and enriching discussion of these issues, we then reviewed our digital pictures from Paris, discussing and digesting much that we learned there. Finally, all the Vendéens received a copy of the "bible" of all travelors in France, the Guide Vert (Green Guide) form Michelin. It was a stroke of genious on the part of this tiremaker to conceive of such an irresistable invitation to "burn rubber" on the roads of France. The volume in question today and for the next few weeks covers the region of Poitou/Vendée/Charentes and is an invaluabe tool in preparing our different field trips. Today we began preparation for our visit to the mysterious island of Noirmoutier tomorrow.
The Atlantes Congress center is also home to the Office de Tourisme of Les Sables, as well as to the city's only casino (which is safely located in an area well away from our classroom!)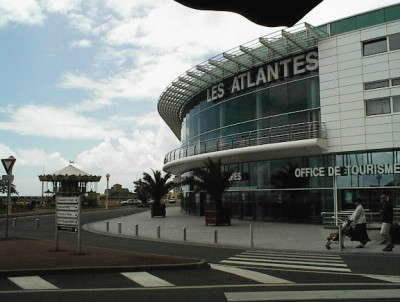 Below is a view of the beach with Les Atlantes at the end of the street, just above Alexander's right shoulder.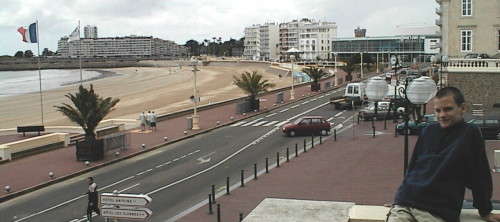 Stay tuned to WVU-V!
Go on to June 8, 1999
Return to the 1999 Calendar
Comments to mlasting@wvu.edu