West Virginia University in Vendée, France

"Oh, say, can you see...?"
July 4, 1998

This Fourth of July is a very special one for us WVU-Vendéens. For many it is the first that we will have spent outside the borders of the United States. For a few others it will be a day spent making their way back to their homeland. Kate Wright left yesterday, and Jennifer Campbell took the train this morning. Both will be in class Monday on the WVU campus in Morgantown. But here in Les Sables, today's celebration, although lacking in watermelon and fireworks, is a happy one indeed. Shelley Albright's family, the Bricaud's, have offered to host a backyard picnic in honor of the Independance that George Washington and the Marquis de Lafayette won for the young American Republic just over two hundred years ago.
Below, from left to right are a few of the celebrants today: Stephanie Meunier (V. Lastinger's sister), Valérie Lastinger, Lucie Lastinger, Monsieur and Madame Bricaud (Daniel and Brigitte are our generous hosts today), Eric Peters, and Brian Hibbs. Some of our WVU-Vendéens had other plans for today, so not all will figure in the photos below. I thus present thees these images of July 4, 1998 in Les Sables d'Olonne as evidence of a very beautiful day and evening.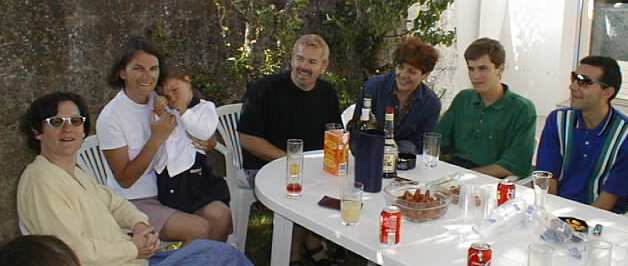 Manon Bricaud, Shelley Albright, Manon's friend Christophe, Mona Iskander, Betsy Goosman, Megan Sadler.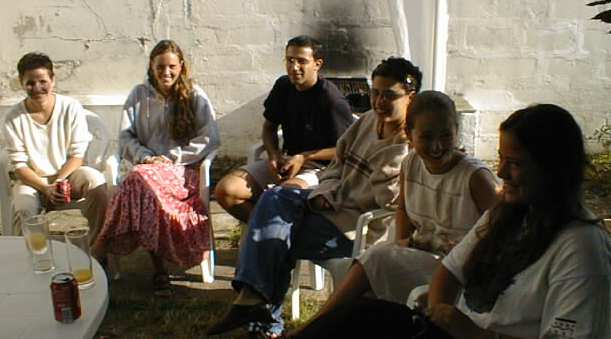 Brian Hibbs, Marjorie Martorella, and the Bricaud's friend Emanuelle.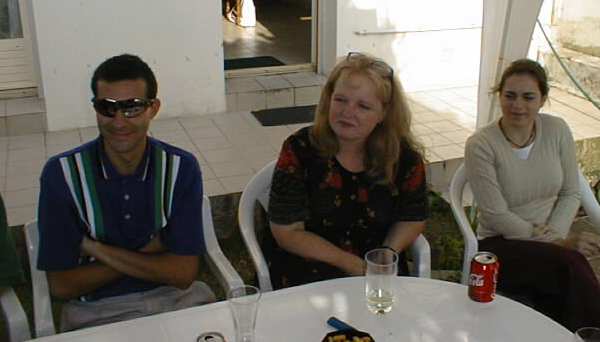 Another friend of the Bricaud's, also Emanuelle, Amanda Walker, Shelley Albright.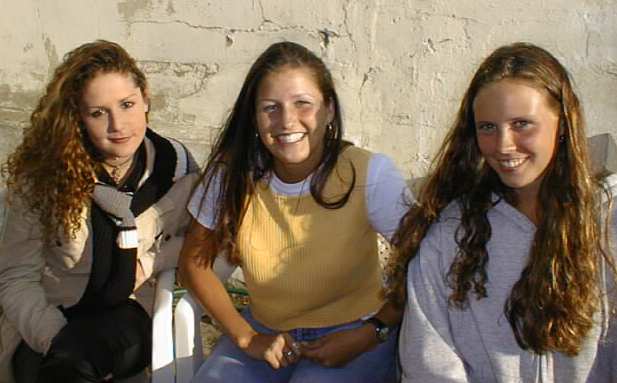 Daniel Bricaud, Julien Brayman (the devil incarnate!), and his host brother Samuel Dubois.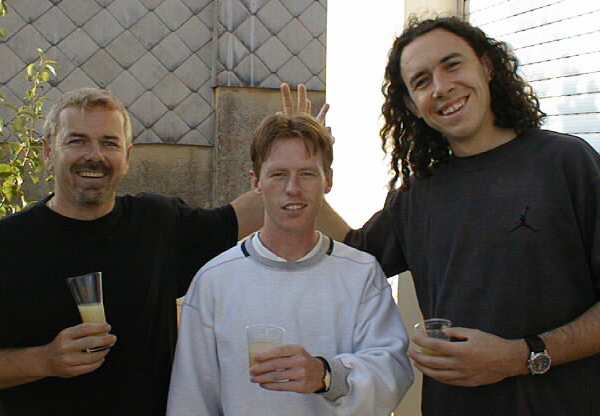 Stay tuned to WVU-V!
Go on to July 6, 1998.