West Virginia University in Vendée, France


Vendée in the Reign of Terror...
And a heated classroom discussion.
June 26, 1998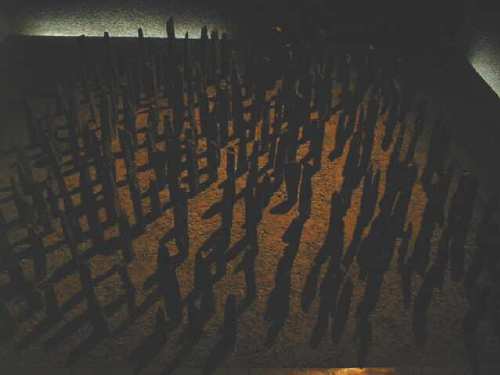 None of our visits so far has provoked the kind of passions that were evident in today's discussions of our visit yesterday to la Chabotterie and to the Mémorial de Vendée near the twin villages of Les Lucs-sur-Boulogne. It was late in the year of 1793 when the Convention decided that no measures would be spared in the effort to eliminate the enemies of the new Constitution. Early in 1794, the Repubican general Turreau receives his orders and arrives in Vendée with twelve mobile columns soon to be known as "les colonnes infernales". Thirteen small zones of safety are designated, and friends of the Republic are ordered to gather there. The columns now begin their movement from east to west. They are to leave nothing standing in their path. All of Vendée is to be burned to the ground. On February 28, 1794, the column of Turreau's subordinate, general Cordellier, enters the area of Les Lucs. By the end of the day, 564 villagers -- men, women, and children -- will have died at the hands of the Republican forces.
It is impossible to summarize the discussion our WVU-Vendéens had over these events and the modern memorial to them, but questions of freedom, faith, tradition, progress, sincerity, and betrayal were all on the table today.

[As I re-read these notes almost a year later, I still remember this day's discussion as a sort of epiphany for me as a teacher of French culture. Never before had I seen my students so impassioned by questions I had so often seen to the the topics of heated exchanges among my beloved native French brethren. As a native of the American South, I know that in civil wars good men and women die on both sides, knowing that they have sacrificed all for a righteous cause. How can two views, each diametrically opposed to the other, each be absolutely right? The answer must obviously lie beyong the grave... ML March 1999]
Also on the table today are our preparation for Monday and Tuesday's visit to the nearby Loire Valley where we will see one of the great abbeys of the Middle Ages along with some of the true jewels of the French Renaissance. Our lectures centered on the stories and people associated with these charming places: Eleanore of Aquitaine, Richard the Lion-Hearted, François I, Diane de Poitiers, Henri II and Catherine de Médicis, Henri IV, etc...

Stay tuned to WVU-V!

Go on to June 28, 1998.