West Virginia University in Vendée, France


France's next great export... (The Festival of Music)
June 21, 1998
Today's report is linked from June 22, a fairly routine day in class -- today began at 2:00 pm, rather than our usual 9:00 am in order to allow a little extra rest for those who stayed up late to enjoy yesterday's "Fête de la Musique".
Begun about 10 years ago by the Minister of Culture, Jack Lang, France's Festival of Music is held each year on the twenty-first day of June. This event has become a wild success throughout France and is now spreading through Europe. It appears that this may soon become as wide spread as the metric system the French invented some two hundred years ago. We WVU-Vendéens only hope it hits America a little quicker. On this day all the cities and towns of France open up their streets to musicians of all genres and give the whole country a chance to relax and enjoy and endless array of rhythms and melodies.
Below, Thomas Dubois whose family is host to our Julian Brayman leads his group through a set on the Remblai (Promenade) of the Les Sables as the sun begins to set around 10:30 pm on this, the longest day of the year.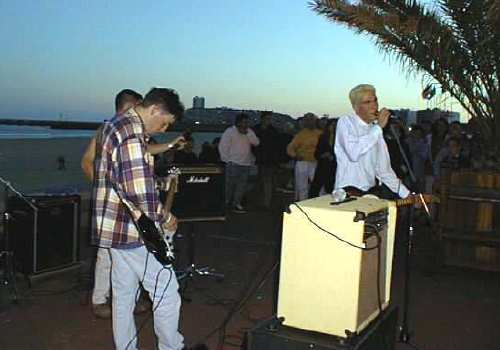 Below, Thomas and his band are encouraged by Brian Hibbs, Mona Iskander, Madame Dubois (Thomas' mother), Julian Brayman, and Dr. V. Lastinger.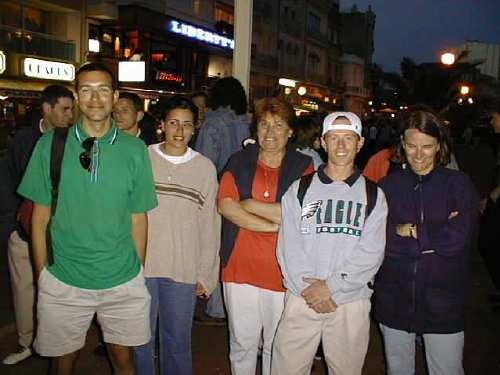 Stay tuned to WVU-V!
Go on to June 23, 1998,
Or see a day on the links.