2005-07-01
« La Dernière Classe... »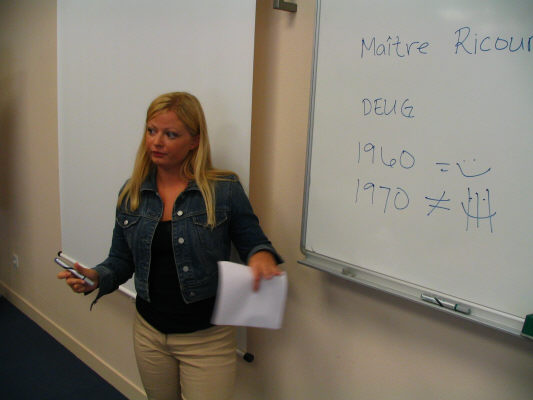 Amanda Byrd is soon to start law school at Duquesne University (if you didn't know it, Duquesne is what the French called Pittsburgh before the English came in the mid 1700's). Amanda has spoken with Maître Rocour Brandet ("maître" is the French title used to refer to lawyers). Amanda taks us through the educational systems that produces French lawyers, noting that the whole process here is quite a bit shorter than in the US. She notes also that this process is quite demanding -- only 50% of a first-year law class makes it into the second year.... One fundamental difference between the US system and the French system is the we use an "adversarial" trial while the French use the "inquisitional" approach. By philosophy, French lawyers are bound to work together in the pursuit of a just decision in all cases - US lawyers take sides and defend opposing positions in a system that the French believe creates chaos and extended or multiple law cases. Amanda says all this goes back to the origins of the two systems in Roman and Napoleonic law for the French and in English common law for the US.
Please send e-mail to M. Lastinger to provide feedback about this page.
---
This page last updated on 2005-07-01 5:51:25 AM.