2005-07-01
« La Dernière Classe... »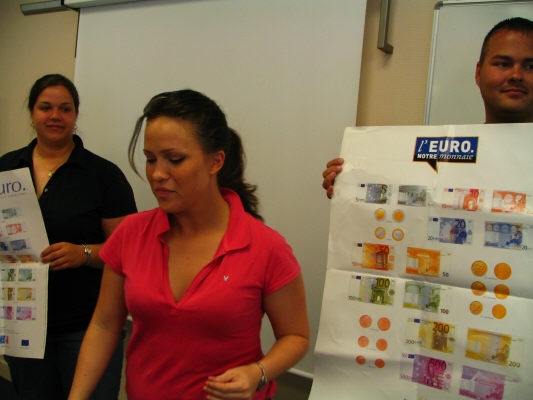 Like some others among us, Ashley Hatfield likes money. She's decided to find out more about this "Euro" that she's been spending over the last few weeks. Corine Deval at the Banque C.I.O. (Crédit Industriel de l'Ouest) has given her a lot of information and plenty of documentation (Thanks Amber, again, and also Glenn, for your assistance). Ashley has asked some very astute questions that go beyond the money itself. One of those dealt with that of national and regional identity so often associated with a currency. She learns that the French often do miss their beautifully crafted francs, but that there is a real feeling of European identity that is now expressed in the new money. Why are there still holdouts, even in Europe? Madame Deval tells Ashley that islanders like the British and even peninsulars like the Danish are naturally "standoffish" when it comes to questions like this. As for generations, the older among the French seem the least happy with the euro, while the youth enjoy the new freedoms of travel and career opportunities that a single currency now offers them.
Please send e-mail to M. Lastinger to provide feedback about this page.
---
This page last updated on 2005-07-01 5:51:25 AM.