2005-06-29

Our last day together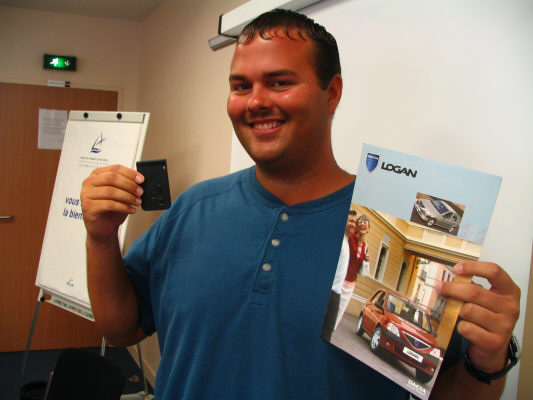 And next, we do. Glenn Bolyard likes cars. He has interviewed Frédéric Jolly, who works at a local Renault dealership. Renault was founded by Louis Renault in 1898 and is now the number one manufacturer of automobiles in Europe. Glenn remembers seeing Renaults in the US a while back so he has asked why they are no longer sold there. Monsieur Jolly answers that Americans have for years tended toward Japanese makes and that a while back Renault decided to go that route. If you drive a Nissan, you can also say you've got a bit of Renault under your hood. (I think think I've heard that Mack trucks are also built by the Renault consortium.) French cars are quite different in many ways from their American counterparts. One difference is the keyless key that Renault has used since 2001. Glenn holds an example here. Another is the French preference for manual transmissions. Glenn says only 15% of French cars use automatics. In better models the manual today has six speeds and gives an incredible balance of control, power, and economy. That's another formula for a good French car. Another note: Renault sells cars all around the world and has now developed a new model with which they hope to conquer the world market for entry-level vehicles. The Logan seats five in solid, but basic comfort and it starts at 7500 Euros. Put these on the roads of every continent in the world, even if it sips and doesn't guzzle, and you'll have a lot more folks stopping at that new gas station. Can you guess what might happen to gas prices? From what I hear, you're beginning to see it already...
Please send e-mail to M. Lastinger to provide feedback about this page.
---
This page last updated on 2005-06-29 6:12:36 AM.