2005-06-29

Our last day together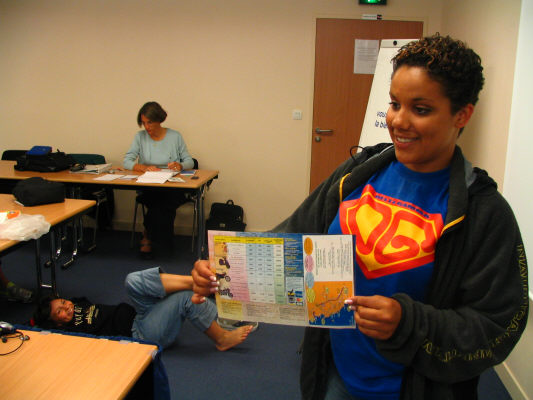 This is not the last day of WVU-V 2005, but it is the last day we'll all be together. A few of us have flights that leave Paris on Friday and they will not be with us tomorrow for the Puy du Fou. I might add that Dr. V., Lucie and I will be moving around a bit, too. We have to close off our phone and move out of our rental today. We'll be real "IFL's" for the next few days. To explain: at WVU a RFL, pronounced 'riffle', is a Resident Faculty Leader. Dr. V. and I admire this idea and have appropriated it for our own. We're "Itinerant Faculty Leaders" -- and proud of it!
Now here's one of the reasons we're so proud: Michelle Cofer. Michelle has noticed the incredible number of scooters on the streets of France, and that's what she chose to investigate for her culture and communication project. As always, my summaries do little justice to the presentation, but here are a few things Michelle teaches us. Scooters are very, very popular among the youth of France. Through an interview with a local dealer, Monsieur François Le Roch, Michelle learns that there are three reasons for this: money, money, and money. They're cheaper to buy, cheaper to insure, and cheaper to run than a car. A good scooter costs between 1500 and 2000 Euros. Most used cars in decent shape cost around 8000 Euros. Go figure...
Please send e-mail to M. Lastinger to provide feedback about this page.
---
This page last updated on 2005-06-29 6:12:36 AM.