2005-06-07

A Chicken in Every Pot...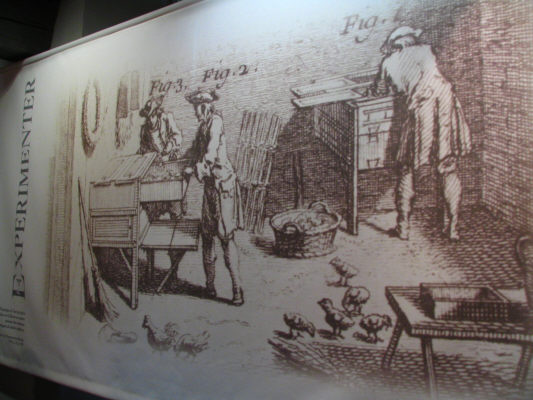 There is really more than I can possibly share in this visit to Réaumur's home in the Vendée village from which he takes his name. He was named to the Royal Academy of Science by Henri IV's grandson, Louis XIV. In the last great days of Versailles, Louis' realm had shined across the world, but endless wars and and reckless economic policies were leaving France in ruin. Réaumur examined every means to put the kingdom back in the black. His real genius was the natural world of science. He examined (and here are just a few):
The oyster and the pearl
the silk worm the spider and their production
metals and the means to produce the tin can
ropes and the means to make them stronger
wood and the means to protect forests while encouraging building of ships and homes
iron, steel and the means to make "unbreakable" anchors, drills, wheels... (note our TGV so recently)
bees and the ideal conditions for production of honey.
Last but not least: chickens and the best conditions for natural and artificial incubation: if you eat a lot of chicken today, it may be because of Henri IV and his promise, or it may be because Louis XIV named Réaumur to the Académie des Sciences...
Please send e-mail to M. Lastinger to provide feedback about this page.
---
This page last updated on 2005-06-07 7:09:42 PM.