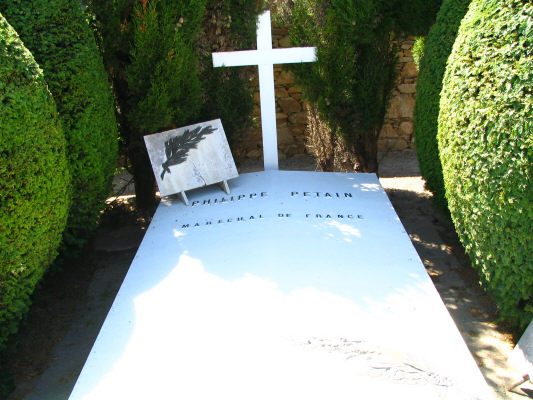 2004_06_28147
There is one tomb here shaded by shrubs and turned back toward the Continent (that's how all these islanders call Europe).

Maréchal Philippe Pétain was one of the greatest heroes of the First World War. Sadly, his glory of 1918 would not outlive him. When Hitler's armies ran through France in 1940, he stepped out of retirement to sign a treaty with the Nazis. He would then go on to lead the "free government" set up by the occupiers. His power for four long years was only limited by the authority granted him by Berlin, and it was enforced by those same foreign armies. Even today, some say he saved France from utter devastation. At the end of the war, however, he was arrested and convicted of collaboration with the enemy. His sentence was the guillotine.

It was his glorious service in the War of 1914, and his advanced age, that saved him from the blade. His sentence was commuted to exile for eternity from his homeland. The Isle of Yeu was his prison. Today his tomb is the only one here that faces the Continent and not the Sea...