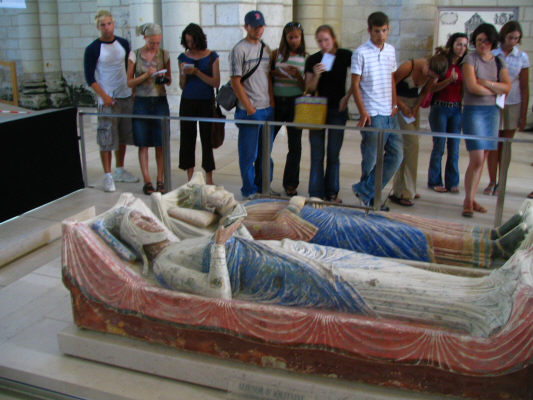 Among those who came here in humility were those who had lived lives of the greatest glory. Henri II PlantagenÍt was at first Count of Anjou, the land we now visit. By his mother he was also the direct descendent of William the Conqueror, the greatest Viking soldier of all history. Thanks to this heritage, he would soon become Duke of Normandy and King of England -- no small glory.

Eleanor of Aquitaine was the granddaughter of William of Aquitaine, who had granted the foundation of this Abbey and along with it the authority of the women who would rule here.

After a disastrous marriage to King Louis VII of France (and an equally disruptive "honeymoon" on the second Crusade), Eleanor sought the greatest vengeance possible. In 1152 she divorced and proposed marriage to the younger Count of Anjou, Henri PlantagenÍt. Soon England, Normandy, Anjou, Poitou, Guyenne (that is Great Britain and all of Western France) were united. France was left with Paris -- and its pride.

Eleanor and Henri II would not have an easier marriage, but they would have many famous children, among them Richard the Lion-Hearted. All three are buried here at Fontevraud where they were born and raised.