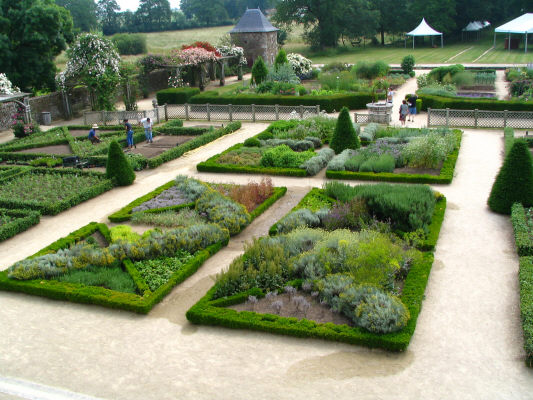 From inside the logis we get a view out on these gardens, and we see a bit of why the French are so proud of their gardens. The geometric design is a matter of order and of pride.

Speaking of geometry, I might note that today is a grand day for the French, and another example of the desire to order and categorize the world. This morning at 8:00 am, thousands of French high schoolers began the first section of their national exams. Today the subject is Philosophy and the questions have been kept in safes all around the country. Students will open their exam books and will take exactly four hours to complete their essays. Those essays will then be sent around the country to be graded anonymously according to the basic criteria of clarity of thought, accuracy of knowledge, and precision of reference to appropriate authority.

Over the next few weeks, French "seniors" will take similar exams in French, in history, in first foreign language, in second foreign language, in math, in natural sciences, etc. Results should be out in July, and only then will the students know their current and future status in the geometry of French education.