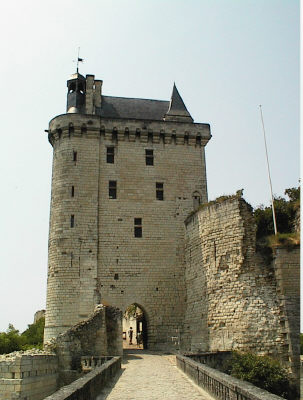 The Château de Chinon has been the site of innumerable adventures in the history of Europe. It was here that Henri Plantagenêt, King Henri II of England, often held court. If you have seen the classic film The Lion in Winter (Oscar for best film of 1968), you know it was here the Henri II held his last court with his wife Eleanor of Aquitaine, their children Prince Richard the Lion Hearted, Prince John, and the boy-king of France Philippe II Augustus.

The people of Chinon like to say that it was at the foot of the castle that Richard died from wounds in the battle of Chalus in 1199. Documents fail either to confirm or deny the legend, but the castle was certainly well known to the Lionheart.

No story of Chinon is more widely known than that of Joan of Arc. The reasons for the Hundred Years Wars a bit hard to explain in a few words (you can ask any of our Vendéens, though). Essentially it was a question of whether the heir to the throne of England could also claim the throne of France.