WVU-V!
We are les CHAMPIONS!
July 2, 2000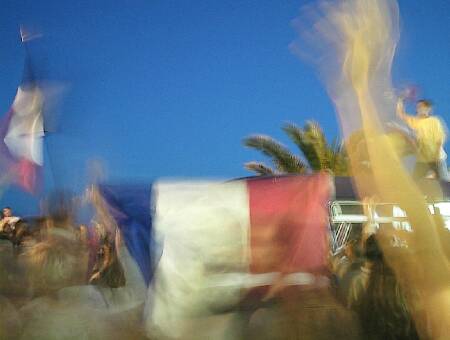 (Festivities after the big game on the remblai of Les Sables, July 3, 2000)
| | |
| --- | --- |
| This quiet Sunday would become even quieter for a few dreadful moments of heart-wrenching football tonight. The morning's cheerful parade of traditional costumes in Les Sables would nevertheless set the tone for what would be a very festive evening indeed. The women to the right have donned the dress of their ancestors for a stroll through town. | |
| | |
| --- | --- |
| | Like many French families, the Crêtaux clan has begun the official vacation season in France. This is typically a time for family gatherings like the one our WVU-Vendéen is witness to today. Valérie Lastinger's brothers Nicolas (left) and Antoine Crêtaux along with children and spouses have a Sunday dinner that ends with a relaxing moment on Antoine's lawn. Guillaume Crêtaux (Antoine's son, right) admires Brian Hills "spirit". Brian has dressed in the true blue colors of the French soccer team. We all await anxiously tonight's European championship game between France and Italy. |
| | |
| --- | --- |
| Nicolas Crêtaux, Alexander Lastinger, Brian Hill, and Antoine Crêtaux settle in for the big game. This match would provide quite a bit more tension and then excitement than any one really expected. France started strong but was unable to break through the Italian defense. The momentum soon shifted to underdog Italy, who early in the second half marked the first hard won goal. Solid defense was then the order of the day. The game dragged on until the regulation 90 minutes were over. The umpires announced 4 minutes of overtime. Every fan in France was fully prepared for defeat.... Yet with less than one minute left the French made a beautiful goal that sent the game into overtime. It was a devastating blow to the Italians, and in the first period of sudden death overtime the French sealed their fate with the historic "golden goal" 2000. | |
| | |
| --- | --- |
| | Within minutes the streets filled with revelers. 400,000 people would dance in Les Champs Élysées of Paris. Here in Les Sables the crowds were smaller but not less enthusiastic. |
| | |
| --- | --- |
| The night air filled with the national anthem and a host of other songs, including the rock song "We are the Champions! | |
Stay tuned to WVU-V!
Back to the Calendar
Comments to: mlasting@wvu.edu