WVU-V!
"All en famille!"
June 29, 2000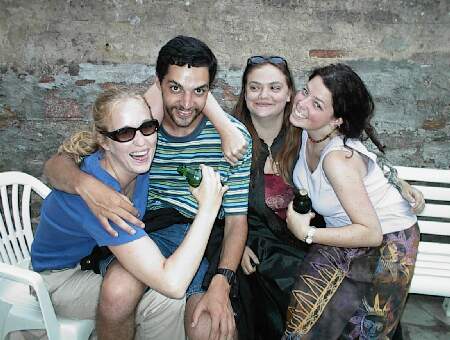 (Katie McMullen, Senan Mashat, Natelle Gray, and Cindy Howley
at the WVU-V! farewell gathering, June 29, 2000)
[Please excuse the delay in publishing these pages. I've been having technical problems . . . again! Many thanks to my brother-in-law Antoine Crêtaux from making the publication of these pages possible.]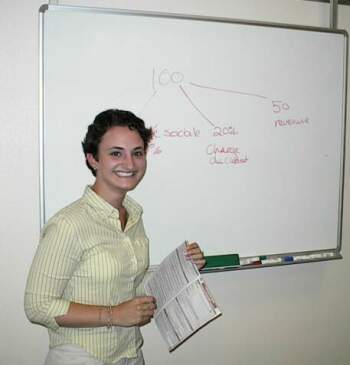 All good things must come to an end, and today WVU-V 2000, draws one step closer to that final day. Today is in fact the last regular class session in which we will all be together. Rebecca Tarabrella will be heading back home this weekend. We will make our last excursion tomorrow, and our final two sessions next week will focus on our individual culture projects. Rebecca, however, will start us off with her presentation of her research on the training and practice of French physicians. She has done her research with her host "father", Dr. Pascal Diochin. As in the United States, French physicians go through years of extensive study and training, but the differences in the process are at times quite striking. Among those differences is a series of "concours" that French doctors must pass before moving on to the next stage of their formation. A "concours" is an exam in which the number of successful candidates is fixed in advance by the number of positions available. Sometimes only 10% of candidates are successful in moving on to the next stage, and the difference between pass or fail may be carried out to three decimal points on the grading scale. French doctors do at least four years of residency for some specialties, and they spend six months in a series of different hospitals, where they are expected to learn the best techniques available in each. They must also write a dissertation on a topic of research related to their specialty or to general practice. About 60% of French doctors go into private practice, where they often buy the practice and clientele of another physician who is about to retire. Most of the other 40% will work in public or private hospitals, but they may also maintain some level of private practice. While medical practice is generally private in France, most patients are covered by the French national health system called Sécurité Sociale (Social Security). In the photo here, Rebecca holds the Social Security medical insurance form, which is the single paper that needs to be filled out under this system.
| | |
| --- | --- |
| | Today is special for another reason. This evening we hold our farewell gathering, which is made possible by a generous gift from some special friends of WVU-V! whom we met in Bordeaux earlier this month. WVU-V! was especially blessed this year with the opportunity to met with alumni and friends of WVU on that very special occasion. "All in the family" is exactly how we feel this evening, and we are grateful to know that the greater WVU family extends beyond the classroom to a whole community of faithful Mountaineers. |
| | |
| --- | --- |
| Tonight is also a special night for French sports fans. Yesterday, France won a hard fought victory of Portugal in the European Soccer Championships. That qualified the French team for the final championship game to be held Sunday. This evening we are all anxious to see who will win the other semi-final game between the Netherlands, who are heavily favored, and the national team of Italy. The Dutch team plays marvelously tonight, but the Italian team fights off a series of penalty kicks, going on to win in the shoot-off of free kicks that breaks the tie. France will thus play Italy on Sunday in a historic game. Never before has a reigning World Cup champion gone on to win the European Cup. The whole nation, including our WVU-Vendéens, will be glued to their TV sets on Sunday in anticipation of a magnificent game of soccer. | |
No farewell gathering in France is complete without a little dancing. Here Jennifer Lawrence and Lucie Lastinger show us a few fancy steps.

Tomorrow we are off on our last field trip to the historical theme part known as le Puy du Fou. This is one of the most popular parks in France, due largely to its accurate recreation of different moments in French history. Since school is now out for many, we will be accompanied by a number of guests from the families hosting WVU-V this year. Once again, that "all in the family" feeling will be the order of the day.
Stay tuned to WVU-V!
Back to the Calendar
Comments to: mlasting@wvu.edu