WVU-V!
Franco/American...
June 24 and 25, 2000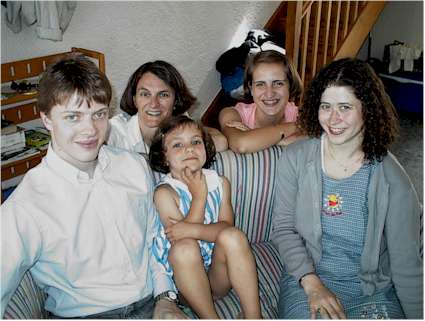 (Lara Meisel, right, and her husband Pascal, left, visit with Valérie, Allison, and Lucie Lastinger , June 25, 2000)
As you may have noticed in these pages, one of the greatest satisfactions of WVU-V is our travel through time. This weekend, we have been privileged to share a few precious hours with one of our own from a few years back. Lara Meisel graduated from WVU and came to France on a temporary visa to be an assistant in a lycée here.

She soon found that she loved not only France but also a Frenchman named Pascal, now her husband. Lara is about to finish an assignment as an English teacher in Caen, and has just received a tenured post in the eastern French town of Mulhouse. Pascal is soon to complete his engineering studies in Tours, where they live currently.
| | |
| --- | --- |
| | Not surprisingly, quite a bit of our conversation this weekend focused on catching up on news from old acquaintances. Among others, we told her of our meeting earlier on this trip with her former classmate Cephus Moore. |
| | |
| --- | --- |
| Lucie is an old hand at exploring the ancient monuments of Vendée, and she is quite happy to show her new friend Pascal the inside of the Dolmen de la Frébouchère, a traditional stop for WVU-V. | |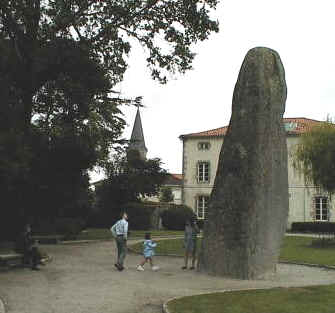 Earlier in our trip we visited these giant prehistoric stones with our regular members of WVU-V. Unfortunately, Lara's and Pascal's work schedule didn't allow them to meet with the whole group of this year's Vendéens.
With a little luck, however, they may be able to join us later this week when we visit the Puy du Fou, a park that they have not yet visited themselves. It's a must-see for many native French people so we hope they take advantage of this opportunity before moving to Mulhouse, quite a bit further away than their present hometown of Tours.
With a tenured post in the French educational system, Lara now has a permanent place in her adopted country. When Pascal finishes his engineering degree, they may well stay here where engineers are one of the country's most precious commodities (you know of the Eiffel Tower and the TGV). Like us Lastinger's, though, America is also very close to their hearts. Since Lara has family in both Pennsylvania (hi, Mr. and Mrs Meisel!), and in North Carolina, they are tempted by the idea of making careers back in the States. Valérie and myself have made a convincing case that West Virginia is a location that would provide easy access to both PA and NC!
Stay tuned to WVU-V!
Back to the Calendar
Comments to: mlasting@wvu.edu