WVU-V!
"Play it again, Jack."
June 21, 2000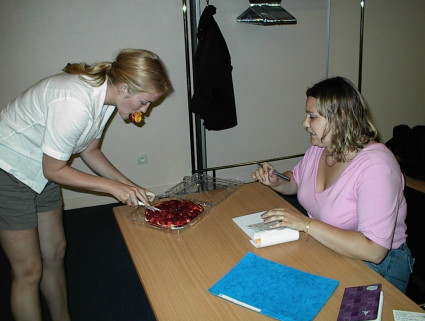 (Katie McMullen prepares a slice of strawberry birthday pie for Jodi Mckenzie, June 21, 2000)
| | |
| --- | --- |
| Yesterday was a day off for WVU-V. While our students were getting a little well deserved rest and beginning work on their cultural research projects, V. Lastinger and I are joined by a colleague, Professor Leonard Koos, from Mary Washington College in Virginia. Dr. Koos is here to observe a few days of WVU-V at work in class and in the field. | |
| | |
| --- | --- |
| | Our regular class is devoted to a review of our exhilarating trip to Bordeaux this pass weekend and to preparing our visit to the battle fields of Vendée during the French Revolution tomorrow. |
| | |
| --- | --- |
| One song we want to play again is that old-time standard "Happy Birthday." Here Jodi McKenzie celebrates her birthday, which falls on the summer solstice -- the year's longest and brightest day! | |
| | |
| --- | --- |
| | June 21 is also Allison Lastinger's birthday. She has had almost as many birthday's in France as in the United States. Today is a bitter-sweet 16 for Allison. She really misses her friends back home, and due to a death in the family, her mother had to be in Nantes much of the day for a funeral. She also will miss the first few weeks of being able to legally drive a car. Those weeks will pass fast, though and she'll soon be back home singing "Born in the USA." |
| | |
| --- | --- |
| Jack Lang is now the Minister of National Education in France, one of the most powerful posts in French government. His latest initiative is to establish national norms for the study of foreign languages in elementary school. Several years ago, as Minister of Culture, Jack Lang conceived the idea of a national festival of music to be held on the longest day of the year. Today every June 21 is a special day in France when musicians both professional and amateur take to the streets for free concerts. The remblai ("boardwalk") and the plazas of Les Sables are buzzing with music from the latest hip hop to the traditional and still very appreciated French accordion. | |
| | |
| --- | --- |
| | Here Manieka Green and Ryan Schiffbauer are accompanied on the remblai by their host mothers Madame Atayi and Madame Dupont. |
| | |
| --- | --- |
| The arrival of the summer flame from the waters of the Atlantic brings of long following of revelers who dance and sing to the musical parade that runs the length of the remblai. | |
Amanda Alderman along with her French family, Monsieur and Madame Heitz and children, is among those whom I encounter on my walk along the remblai this evening.

Tomorrow is also a big day for WVU-V. We will be going into the heart of inland Vendée to visit a famous "logis" or Renaissance castle, farm, and fortress that has a special significance in this part of France.
Stay tuned to WVU-V!
Back to the Calendar
Comments to: mlasting@wvu.edu