WVU-V!
Something Gold, Something Blue!!!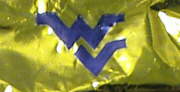 June 18, 2000
(Many images today, thanks for your patience)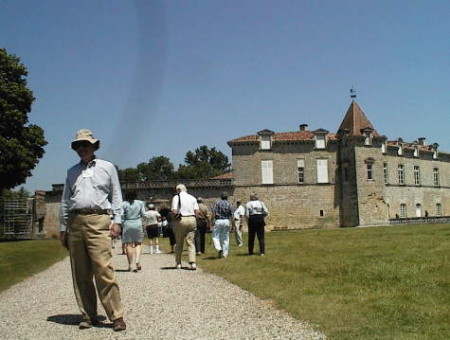 (The Gold and the Blue of WVU enter the historic castle of Cazeneuve, June 18, 2000)
Before telling the story of these exceptional days for WVU-V!, I'd like to acknowledge Professor Daniel Weiner, director of WVU's Office of International Programs for their original conception. Earlier this year Dr. Weiner informed Dr. Valérie Lastinger and me that the WVU Gold and Blue Travelers would be passing through France this summer on their visit to Europe. Thanks, Dan, for helping us to make this very special encounter a reality.
Our WVU-Vendéens are especially excited this Sunday morning, since they are looking forward to meeting another group of Mountaineers in one of France's most historic and charming regions.

We leave Les Sables soon after 7:30 am this morning and our route takes us past the historic fortress port of La Rochelle, where the great Cardinal Richelieu suppressed Protestant lords who resisted the authority of King Louis XIII. While maintaining the principle of religious freedom established by his father Henri IV, Louis XIII and Richelieu would set the stage for the greatest era of absolute monarchy in France.
Summer travel season in France is also the season for road work. A couple of minor but painful delays brought the Vendée-Mobile into the port city of Bordeaux a bit late for our anxiously anticipated rendez-vous with President and Mrs. Hardesty and the group of distinguished WVU supporters who have joined them for this visit to the great ports of the Mediterranean and Atlantic.

We are all greatly relieved as the ship Crystal Symphony comes into view.
Within a few minutes we are joined on the Vendée-Mobile by some of the greatest friends of West Virginia University.

Our destination is the castle of Cazeneuve that once belonged to France's favorite monarch, the "Good King Henry." Once again, however, we run into a detour and are forced off our planned itinerary. Francis, our driver, takes out his maps and calculates an alternative route which takes us cross country on roads through Bordeaux's most picturesque vineyard country. This unexpected turn of events delayed our arrival at the castle, but gave us a glimpse of landscapes that are among the treasures of France.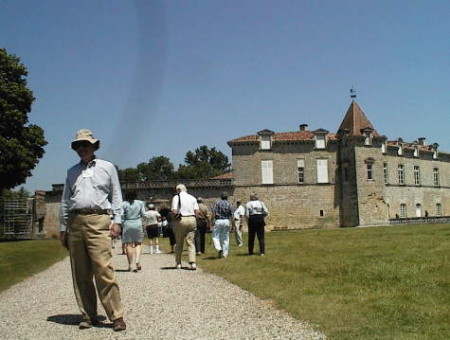 On a very warm and sunny Sunday afternoon, we enter the gates of Cazeneuve, a castle with grottos dating back to prehistory, but whose glory days came in the 16th and 17th centuries, when Marguerite de Valois, known in France as Queen Margot, lived here. It was also a favorite resting place of king Henri IV and his son and grandson, Louis XIII and Louis XIV.
| | |
| --- | --- |
| Upon our arrival at Cazeneuve we gather in the courtyard for a moment's respite before settling in for lunch. | |
| | |
| --- | --- |
| | It is fairly rare in France for a castle to remain in the hands of its original owners. Cazeneuve, however, is still he residence of the Sabran family, who are descendents of Henry IV himself. In addition to their links to the royal family of France, the Sabran's have several legendary figures in their line, including two saints and one pope. |
| | |
| --- | --- |
| Here, Elzéar de Sabran himself (on the left) reviews the afternoon's program with Dr. Valérie Lastinger. | |
Our five-course meal today is highlighted by the historic "poule au pot" of Henri IV. In his efforts to bring peace and prosperity to a country torn by religious civil war Henri promised that when he became king, every family in France would have a "chicken in the pot" on Sunday's. Later our own politicians, notably Herbert Hoover, would also promise the luxury of "a chicken in every pot."

Here Jennifer Lawrence (bottom left), enjoys the luncheon with Bill and Ruth Ann McLaughlin, Cecil and Barbara Highland, Bill Sites, Manieka Green, Jimmy McCartney, and Allison Lastinger.
Although we were a little behind schedule in arriving to Cazeneuve, the meal is a true delight for all. The cuisine is not the only element that makes this meal such a pleasure. The WVU-Vendéens and the Gold and Blue Travelers seem like old friends just an hour after having met for the first time.

Jodi McKenzie (bottom left), is joined by Becky Smith, John Allen, Rebecca Tarabrella, Suzy and Lacy Rice, and Katie McCartney.

Should I add that in addition to the Gold and Blue, some one at this table might also be wearing "something old and something new"...? Our sincerest congratulations to the Rice's.
| | |
| --- | --- |
| | The delicious fare and joyful fellowship is fully appreciated by each of us today. Here, Howard Hardesty speaks with Joyce Allen (standing), while Sharon Silva (seated right) is engaged in conversation with Doris Hardesty. To Sharon's left is Cindy Howley, Alexander Lastinger, J. P. and Anita Ball, and Ryan Schiffbauer. |
| | |
| --- | --- |
| Here the historic "poule au pot" is served to Carolyn Blaney (left), Brian Hill, and Bill Davis. | |
| | |
| --- | --- |
| | President Hardesty passes by as Janet Rogers (seated left) converses with Président Régis Ritz and Natelle Gray. |
| | |
| --- | --- |
| Bill Davis (left), dines with Tom Rogers, Stephanie Bloch, Jerry Blaney, Katie McMullen, Valérie Lastinger, and Carolyn Blaney. | |
| | |
| --- | --- |
| | President David Hardesty enjoys the meal in the company of Jennifer Martin. Jennifer has recently been awarded the McBride Fellowship in graduate French studies. This award will allow her to return to the French city of Lille for a year of study in a country she has come to love. |
| | |
| --- | --- |
| Susan Hardesty (left) is joined by Senan Mashat and Betty Chilton. We are all in admiration of Mrs. Hardesty's organizational genius. It takes a magic touch to orchestrate a signature event like that undertaken by the 2000 Gold and Blue Travelers. | |
| | |
| --- | --- |
| Our own President Hardesty rises to introduce his Gallic counterpart, Président Régis Ritz, former Président of the University of Bordeaux. Président Ritz made his career as Professor of English literature in one of France's greatest institutions of higher learning. The university system of Bordeaux has some 60,000 students in all academic disciplines. Professor Ritz now is a prime mover in a group known as the "Poles of European Universities." The goal of this group is to develop a chain of mutually associated universities open to students from around Europe and the world. Needless to say, such an idea is very much in line with President Hardesty's vision of WVU's own relation to the world's great educational institutions. | |
As Président Ritz takes the floor, we learn that the "Poles" concept would create a community of universities in different countries with programs that could be pursued successively across the different campuses. Students could pursue a year of study in one country and transfer the entire year's credit to another as the curriculum progresses.

Students would major in a wide variety of areas, taking the best in a chain of different schools while enriching the whole with experience and understanding of several different countries. Needless to say, language study would be a major part of making such an experience a full success. Professor Ritz is therefore highly impressed by the language skills of our WVU-Vendéens, whose majors range from French language and culture to chemistry to psychology to computer science.
| | |
| --- | --- |
| The WVU-Vendéens and the Gold and Blue Travelers are all captivated by the vision held forth by Professor Ritz. | |
| | |
| --- | --- |
| As the luncheon draws to an end, J. P. Ball pins the golden "Flying WV" on the young Mountaineer, Alexander Lastinger. | |
| | |
| --- | --- |
| | After lunch we all take a moment to visit the cellars of Cazeneuve. Here the Gold and Blue explore foundations and excavations that date back to Merovingian times. The Merovingians were the great Frankish invaders whose king Clovis first converted to Christianity in the year 496. |
| | |
| --- | --- |
| The vaults of Cazeneuve hold barrels of wine made in the nearby vineyards of Bordeaux. In medieval times when this area belonged to the kings of England it was a crime to make a defective barrel. Punishment was quite severe for the craftsman who failed to properly protect this precious commodity. | |
| | |
| --- | --- |
| | Far underneath the castle are grottoes that were originally inhabited by "Troglodytes" or cavemen some 4000 years before Christ. |
| | |
| --- | --- |
| Our Mountaineers, senior and junior, say a fond good-by to Professor Ritz as we re-board the Vendée-Mobile en route for the vineyards of Château Filhot. | |
| | |
| --- | --- |
| | This handsome manor is the residence of the Count de Vaucelles, proprietor of the Filhot vineyards. |
| | |
| --- | --- |
| Here Jodi McKenzie, John Allen, Manieka Green, and Joyce Allen taste the vintages of the great Sauternes wines produced in the unique conditions of soil and climate that give each area of the Bordeaux region a wine with its own character and quality. Sauternes wines are richly complex and sweet, and are a true treasure among French white wines. | |
| | |
| --- | --- |
| | The Count de Vaucelles himself has agreed to receive us today and is happy to explain the special conditions of production that make each vintage unique. |
| | |
| --- | --- |
| After leaving the Gold and Blue Travelers on the Crystal Symphony docked on the port of Bordeaux, the WVU-Vendéens head out to their hotel in the charming medieval village of Saint-Emilion. Our dinner that evening is another example of the fine food that is available in this part of the world. Several of our group consider that this is the best food they have ever had the pleasure to taste. Here the Vendéens admire the plateau of cheeses as the evening meal draws to its conclusion. | |
| | |
| --- | --- |
| | As the sun sets in Saint-Emilion, several of us retire while others take an evening stroll through the streets of one of France's most charming villages. Tomorrow we look forward to sharing these narrow streets with the Gold and Blue Travelers. |
Stay tuned to WVU-V!
Back to the Calendar
Comments to: mlasting@wvu.edu