WVU-V!
Monday morning, comin' round...
June 12, 2000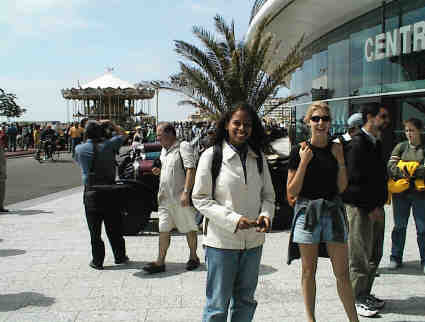 (The Vendéens after class in Les Sables d'Olonne, June 12, 2000)
This weekend is a national holiday in France, the weekend of Pentecost. With a very heavy program packed into five weeks, we needed this morning however for a class session devoted to cultural adaptation, current events, the tides, and the economy of Les Sables, past and present.

This week has been filled with special events around town, and today as we leave class we pass by a few classic automobiles, some from the museum we visited on Saturday, that are preparing for a parade through town this afternoon.
| | |
| --- | --- |
| Just outside the Atlantes center, this shot overlooks the city pool with its heated sea water as well at its border celebrating the upcoming Vendée-Globe yacht race. | |
Like the recent hero Philippe Monnet, the racers in the Vendée-Globe will sail around the world solitary with no stops in port. Each morning the gardeners of Les Sables count down to the day of departure in November. The race will likely last until late May or early June 2001 when the sailors will make their first and last entry into port after a trip around the world. Jules Verne, born just north of here in Nantes, had his adventurers make this trip in 80 days, but they took advantage of all the latest technology of the late 1800's. The sailors of the Vendée-Globe will have the latest designs in sailing, but they will rely only on the winds and the currents, taking routes unlike those of Philippe Monnet that will favor a swift trip around the earth's oceans.
As for our Vendéens' immediate projects, tomorrow promises to be another day of discovery. We will rise early and visit the heart of the modern economy of Les Sables, the fishing port. For inhabitants of land-locked West Virginia this will likely be an unforgettable experience. For some it is likely to be a bit more than that, especially they have never baited a hook!!! In the afternoon we will take a boat out on to the marshes that border the town. There we will see one of the most important sources of wealth in this area in times past -- the famous "salines" or salt marshes. But more about all that tomorrow...
Stay tuned to WVU-V!
Back to the Calendar
Comments to: mlasting@wvu.edu