WVU-V!
Start your engines...
June 10, 2000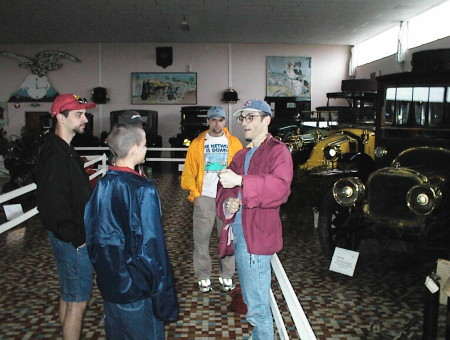 (The Museum of the Automobile, Les Sables d'Olonne, June 10, 2000)
| | |
| --- | --- |
| | In this week following preliminary of the 24 hours of Le Mans which took place just up the Loire Valley from here, many minds in France on automobiles. Lead by Senan Mashat, whose passion for cars inspired us today, several of us decided to pay a visit to the Musée de l'Automobile here in Les Sables. Above, Senan, Alexander Lastinger, Brian Hill, and Antoine Crêtaux discuss the mechanics of one of the engines on exhibit here. To the left, they admire several experimental prototypes of the future. |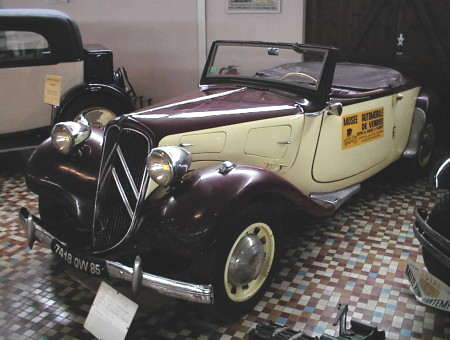 French cars are not generally appreciated in the American market today, in part because of production quality problems that plagued French industry in the '70's and '80's much the same way they hurt Detroit in the same period. Today, French cars are back on the road to the same level of quality and innovation that characterized their evolution in earlier decades. To the right is a 1938 Citroën "Traction". It was the first commercially successful front-wheel drive car. This car, which accelerated, held the road, and took curves faster than any other in its day, quickly became the auto of choice of gangsters and bank robbers who left the hapless police in the dust of the 1930's. The main problem with such traction, however, was the quick work it made of a set of tires. Not to worry, a modest French company named Michelin would soon come to the rescue with the radial tire. . .
The car to the left is an 1885 Dion Bouton, a tricycle in fact, with a front mounted steam engine and a single rear wheel which provided propulsion. The owner's manual included instruction on how to dispose of ashes and how to clean mud out of the water tank.
On a more contemporary note, sports fans today have put the Formula One's of Le Mans temporarily on hold, awaiting the big race that will take place a bit later this month. The news today is filled with the triumph the sailor Philippe Monnet who just arrived in Brest setting a new world record for a solo trip around the world in reverse (against the winds and currents). As I write this page, the Mary Pierce attempts to win her own country's most import tennis tournament, the French open at the Roland Garros stadium in Paris. If she is successful, it will be the first time in over thirty years that a French woman has won this this prestigious event. Tonight will see the first soccer match for the Europe Cup 2000. All our 1998 Vendéens will remember the World Cup was won by the French team. The question on every one's mind is whether they will be able to maintain their number one status against the best of their own continent.
Stay tuned to WVU-V!
Back to the Calendar
Comments to: mlasting@wvu.edu