WVU-V!
Roll Call!
June 5, 2000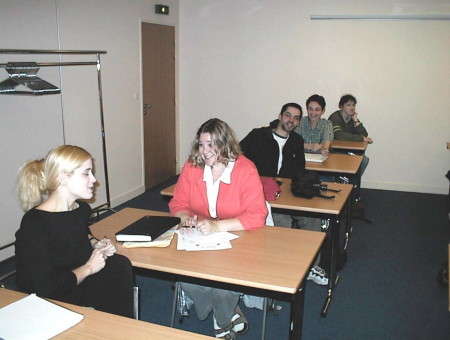 After our arrival early Saturday afternoon, some our Vendéens have taken advantage of the weekend to get a little rest. Others have pursued a schedule of continued activity to which these pages could give on a inadequate account. What we do know, however, is that all were present and accounted for at today's first regular class meeting in the Atlantes conference center of Les Sables d'Olonne. From left to right, Jennifer Lawrence, Jodi McKenzie, Senan, Mashat, Rebecca Tarabrella, and Amanda Alderman.
Below is the middle row or today's class, with from front to back, Manieka Green, Cynthia Howley, and Katie McMullen. To the right is Brian Hill, from the next row.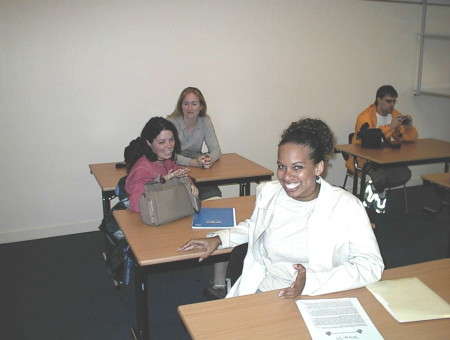 Last but not least are Natelle Gray (for whom this picture is taken a little early in the morning!), Ryan Schiffbauer, Jennifer Martin, and again Brian Hill.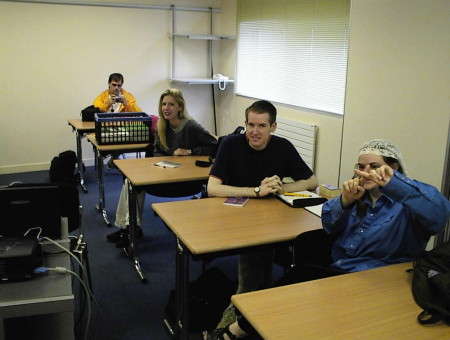 Today's class was devoted to reports of our students' weekend activities with their host families, to a review our visit to Paris, and to a preview of our visit tomorrow to the "Green Venise" of Vendée, a medieval system of canals that drained the Gulf of the Pictons and laid a fascinating system of canals used for the culture of trees, grain, vegetables, and cattle as well as a tour of what was once one of France's richest abbeys, the Royal Abbey of Maillezais. The weather this morning is gray and rainy, but tomorrow promises to be sunnier though still a bit cool. Not to worry, the sun is never far from the shores of Les Sables d'Olonne.
Stay tuned to WVU-V!
Back to the Calendar
Comments to: mlasting@wvu.edu