WVU-V!
Here comes the Sun King...
June 2, 2000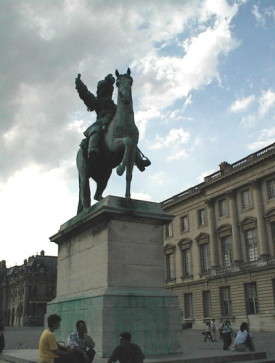 (The equestrian statue of King Louis XIV at Versailles, June 2, 2000)
After a morning free to rest, to do some shopping, or to see more sites, the WVU-Vendéens take the RER regional train out to Versailles, where Louis XIV built a castle designed to humble the greatest of his

17th-century

rivals.

When completed around 1670, the Château de Versailles was a massive statement about the power of the French nation in every element of its expression -- artistic, economic, political, and military.
The castle is decorated with portraits, tapestries, sculpture, crystal, engraving and a host of other artistic media. In its time and still today, Versailles completes this array with theatrical and musical spectacles that are a marvel to all.

Here we see some of the portraits, notable that of Madame de Maintenon, first the governess to Louis's children, then the royal mistress, and finally the king's morganatic wife. Among her notable accomplishments were the establishment of the school of Saint-Cyr for the daughters of impoverished nobility. The film Saint-Cyr with French mega-star Isabelle Huppert is currently a hit in French movie theatres and may be coming to the States soon.

Madame de Maintenon was also influential in Louis's decision to revoke the Edict of Nantes which his own grandfather Henri IV had declared in order to put an end to the religious wars. It is no small irony that Madame de Maintenon was born François d'Aubigné, granddaughter to one of the greatest of the Protestant leaders. We will see some of his work in the heart of Vendée later this month.
| | |
| --- | --- |
| Here Jodi McKenzie and Ryan Schiffbauer, followed by others of our group, enter the famous Galerie des Glaces, or Hall of Mirrors. | |
| | |
| --- | --- |
| | A happy time for our Vendéen Brian Hill. He has just been engaged to Natalie Sal, to the left. Natalie has been with us for our visit in Paris and will leave today for Geneva where she will visit friends before returning to the States in a few days. We all wish Brian and Natalie the greatest of happiness in their new life together. |
King Louis-Philippe came to power in 1830 after a revolution that swept that last Bourbon kings from the power the

y

had managed to regain after Napoleon's defeat and exil

e

. In order to save national unity and consolidate his own power, Louis-Philippe hoped to use the great halls of Versailles to tell the entire story of the French nation. Here we see Jennifer Martin, Amanda Alderman, Katie McMullen and several other Vendéens as they study the paintings recounting the greatest moment of French history.
| | |
| --- | --- |
| | Outside the castle are the immense gardens, great fountains, and immense waterways of Versailles. Here we see Natelle Gray, Senan Mashat, Cynthia Howley, Jodi McKenzie, Manieka Green, Jennifer Lawrence, Katie McMullen, Jennifer Martin, and Amanda Alderman as they are about to take a stroll through King Louis' parks. |
| | |
| --- | --- |
| Apollo was of course the Sun King's emblematic deity. Here Senan Mashat, Jennifer Lawrence, Amanda Alderman, and Natelle Gray pose before Louis' famous Fountain of Apollo. | |
| | |
| --- | --- |
| | Here we walk past the pond near the famous Hameau or Hamlet of Marie-Antoinette. It was here that the queen would leave her court attire to play at being a peasant in the years leading up to the great Revolution that began in 1789. |
Stay tuned to WVU-V!
Back to the Calendar
Comments to: mlasting@wvu.edu