West Virginia University in Vendée, France
WVU-V!
All is well...
May 27-28, 2000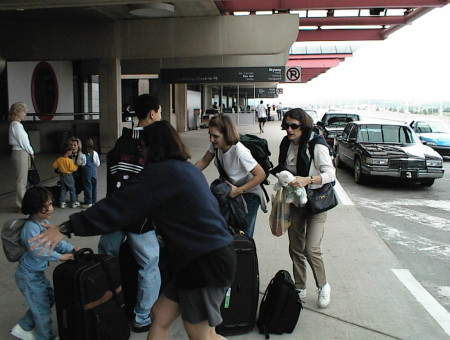 (The Lastinger's bid farewell to friends at the Pittsburgh Airport, May 27, 2000)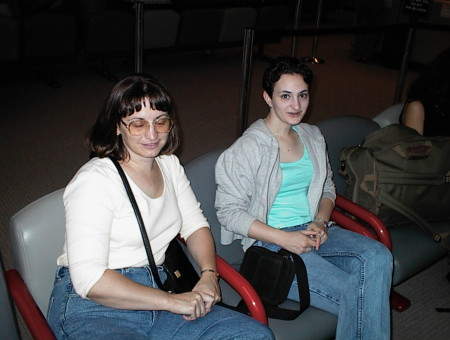 Quite a normal day of travel for those leaving for France today. Here, Rebecca Tarabrella and her mother Chris await the flight for Paris along with the Lastinger's. The flight would be quick and easy, and we would arrive in at Charles De Gaulle Airport slightly ahead of schedule. Aside from a bit of turbulence at landing, the great "adventure" of the day was the mix-up with the shuttle that was to take Rebecca downtown to the Hôtel d'Amiens. Somehow the reservation made on the internet had not gotten through to the station in the airport. As in a famous episode of Seinfeld, they were excellent at "taking the reservation," but not too good at keeping the reservation -- "and that's the most important part!!!!" The Lastinger's thus accompanied Rebecca to the RER regional train station, where she was accompanied by one of the RER' s agents to the dock of her train for the heart of the City of Lights. These pages are being composed in the evening of May 28. We have just called the Hotel d'Amiens and learned that Rebecca has checked in along side Natelle Gray who came on a different flight this morning.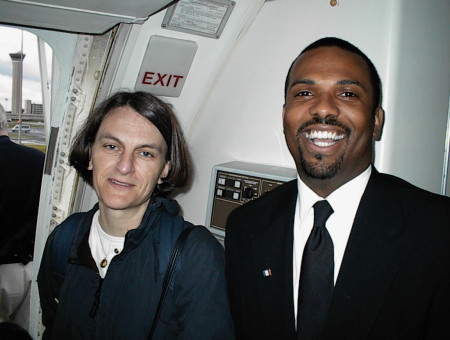 One of the highlights of today's trip was our surprise meeting with Cephus Moore, below. He is now a member of US Airways, and we were especially happy to share a flight with one of our own Foreign Language majors from a few years back.
After seeing Rebecca to her train, the Lastinger's took the TGV down to Les Sables d'Olonne where they will settle a few details before rejoining the 2000 WVU-Vendéens in Paris on Tuesday. Below, Lucie Lastinger (right) enjoys the company of her cousin Clémence Crêtaux and Marion's neighbor Helena. Like Lucie, Helena is bilingual. Helena's parents are from England and now live in Le Château d'Olonne, just outside Les Sables.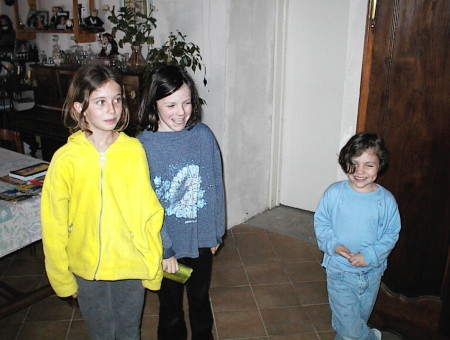 More news should be forthcoming tomorrow, so be sure to . . .
Stay tuned to WVU-V!
Back to the Calendar
Comments to: mlasting@wvu.edu